Delhi zoo teeming with hundreds of painted storks and their chicks
Prathiba Raju
&nbsp | &nbsp New Delhi
14-December-2011
Vol 2&nbsp|&nbspIssue 49
A steady stream of chirping fills the air in the city's zoo these days, where two of the three ponds have been taken over by the migratory painted storks. More than 1,000 chicks have been born this season in the nearly 300 nests built by these beautiful birds.
A long yellow beak with a white body and strokes of cherry-blossom pink on their wings give the birds their name. Painted storks are large wading birds, distributed widely in Asia.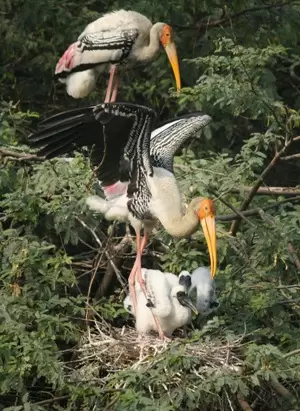 Painted Storks at the Delhi zoo (Photo: IANS)
"Although there was average rainfall in the capital this year, a high birth rate has been recorded by these painted storks, which mostly come from Himachal Pradesh and Kashmir for food, as the rivers there are frozen and they cannot have their food. The chicks only take 16 weeks to become adults," said zoo curator Riaz Khan.
Perched atop the trees, the adults keep a close watch as the young ones try to fly and join them on the branches, mostly without success.
Khan said out of three ponds and one lake in the zoo, two ponds are filled with painted storks and some rosy pelicans.
According to Delhi zoo officials, the yellow-beaked painted storks usually reach Delhi by mid-August. This year about 700 storks came in and built around 300 nests. Each nest has four to five chicks, which means about 1,500 storks will fly back by March.
Another reason for the increased number in the zoo is the deteriorating environment of the Bharatpur bird sanctuary in Rajasthan and Sultanpur in Haryana, say zoo officials.
"The Delhi zoo is Asia's best colony of painted storks as it provides them with food and good nesting environment. The birds flying to Bharatpur and Sultanpur flock to the zoo as they do not have adequate water or proper environment for nesting," Khan said.
Apart from fish, the birds feed on small frogs, insects and algae -- all of which require plentiful rain.
"With an average rainfall this monsoon, there are no fish in the pond, so we are providing them 60 kg of 2x4 inch fish per day. Each bird consumes around 300 gm of fish. Apart from this, the painted storks also eat insects and algae from the lake. They are voracious eaters. They love filtering and eating algae from the pond waters," Khan added.
However, this might be insufficient as more migratory birds would arrive by the end of December.
Apart from painted storks, the white ibis, night heron, tailor bird, green pigeon, blue-throated crystal and spot billed duck are some of the winter visitors that come here from hilly regions like Himachal Pradesh and Kashmir in search of food.
Spread over an area of 240 acres, the Delhi zoo houses over 1,000 varieties of mammals, reptiles and avian species. It is also home to many endangered species in India.
The leopard cat, Indian rhinoceros, hippopotamus, blackbuck, Indian gazelle and lion-tailed macaque are some of the animals living here. - IANS

Trending Now: