He lost his wife and son, and the world is richer by 30000 new trees
Asit Srivastava
&nbsp | &nbsp Lucknow
18-October-2011
Vol 2&nbsp|&nbspIssue 41
The death of his wife and his young son left him completely shattered and he even contemplated suicide. But today, Bhaiyaram, 40, a farmer in Uttar Pradesh's Chitrakoot district, is a changed man with a `green family' of 30,000 'members'.
For Bhaiyaram, his saplings plantation is an unending mission. In the last four years following the death of his six-year-old son, Bhaiyaram has planted over 30,000 saplings.
Due to his affection towards plants, Bhaiyaram is known as `Vrikshon ke Pita' (Father of trees) in Chitrakoot - a backward district of Bundelkhand region.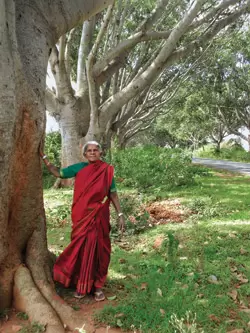 Saalumarada Timmakka (in picture) and her husband Chikkaiah planted and nurtured the banyan saplings till they grew up flanking the 4km Kudur – Hulikal road (Photo: The Sunday Indian) - To read about Saalumarada Timmaka click on the link given at end of this article
"After losing my wife and son, life was a burden for me. I even thought of committing suicide as there was no meaning in my life without my family," Bhaiyaram said on telephone from Chitrakoot, some 300 km from here.
"As I wanted to forget my sufferings, I started various activities to keep myself busy. Sapling plantation was one of them - it made me look at life with a different angle," he said.
"Honestly speaking, when I started sapling plantation, I did know that one day the exercise started merely to counter my negative thinking would give me a goal in my life," Bhaiyaram said.
"When I saw the saplings planted by me growing... it developed within me a special bonding and at times I even felt my son... growing with them," he added.
While Bhaiyaram's wife Aasha Devi died of a renal ailment around 10 years ago, his son and only child Chhotu died following high fever accompanied by convulsions.
Bhaiyaram does not just plant saplings but waters them and also offers regular plant-pathogen treatments.
"They (saplings) are my family. As you have to look after various needs of your family, I also have to take care of various aspects of my green family to ensure the members don't face any problem in their survival," said Bhaiyaram, who after leaving his home, has now started living inside a hut in a forested area.
Initially, after the death of his son, Bhaiyaram started saplings plantation with his own limited resources. Later, taking into account his love for nature, locals also started assisting him.
And now, even the forest officials take his "selfless service" in enhancing the greenery.
"He has totally devoted himself for the green cause. His efforts to increase the green cover are really noteworthy," said Regional Forest Officer Narendra Singh.
"He doesn't accept any labour charges for getting involved in plantation drives conducted by us. Bhaiyaram in a true sense is involved in a selfless service that is making our planet greener," he said.
"By treating the saplings like his family members, Bhaiyaram is giving a unique message of environment protection. What Bhaiyaram is doing assumes greater significance at a time when issues like climate change, pollution and deforestation have become a global concern," Narendra Singh added. - IANS
Also Read

A woman plants and nurtures 284 banyan trees between Kudur and Hulikal
Wish to share your story?
Trending Now: