With 200 tigers, Corbett turns a proud 75
Sanjeeb Baruah
&nbsp | &nbsp Ramnagar (Uttarakhand)
14-September-2011
Vol 2&nbsp|&nbspIssue 36
One of the nurseries of India's tiger conservation movement and Asia's first endeavour to have a national park, the Corbett National Park turns 75 this year, marking a string of successes despite a few incidents of man-animal conflict.
Some 200-plus tigers, or almost one in every eight of the big cats surviving in India, live in Corbett landscape, which is almost 2,000 square kilometres of grasslands and Sal forest covering the reserve and adjoining jungles in Uttarakhand's Shivalik foothills.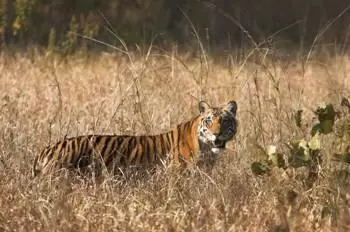 A majestic Royal Bengal Tiger in the Corbett National Park, which completes 75 years this year. (Photo courtesy: Aniruddha Mookerjee of Wildlife Trust of India).
The tigers are not the only attractions; the resort hosts a wide gamut of animals, including leopards, elephants, sloth bears and various deer species including spotted deer, sambar, nilgai, hog deer, and barking deer.
The reptiles include the Indian marsh crocodile, gharials (alligators), the king cobra, common krait, cobra, Russels viper, python and monitor lizards, while more than 600 species and subspecies of birds are found.
Founded in 1936, the preserve was named after famous hunter and conservationist Jim Corbett, who was also one of its founding members.
To mark its platinum anniversary, the management has planned a range of activities which will continue till December. A series of activities have already been held, while many more are on the anvil.
"We are planning to release reports on conservation, and an archival film on Corbett tigers is also being made," said park warden U.C. Tiwari, adding special safaris for school students is also being organised.
Considered one of the best-managed parks in India, the park has withstood many challenges: from the onslaught of poaching to changes in the ecosystem and now man-animal conflict.
The Corbett Park was brought under Project Tiger when this flagship programme to save the big cats was launched by India in 1973. The Corbett Tiger Reserve today spreads over 1,280 sq km, also covering the 520 sq km Corbett park.
However, with the expansion of the reserve over time, giving wild animals more roaming space has led to an increase in man-animal conflict in recent years since it brought them closer to human settlements.
Last year at least six people were mauled to death by tigers in the Sunderkhal area, adjoining the reserve, which is an important corridor that helps wild animals to move between the reserve and the adjoining forests.
Over 400 families live in this corridor. The government has been mulling to shift them to safer places but nothing concrete has been decided yet.
In addition, developmental activities too have taken a toll and threatened to damage the park's sensitive ecosystem.
"There has been a spurt of tourism activities, which is a big challenge. We need to have some regulatory measures to tackle it," says C.K. Kavidayal, deputy director of the Corbett Tiger Reserve. - IANS


Trending Now: