Kerala's own Fidel is devoted to another social cause
07-September-2011
Vol 2&nbsp|&nbspIssue 35
Like his hero, the great romantic Cuban revolutionary leader Fidel Castro, Sobhindran Mash to his admirers, believes in devoting his life to a cause.
Like Masanobu Fukuoka, the Japanese farmer and philosopher celebrated for his Natural Farming method and re-vegetation of desert lands, T Sobhindran, a retired professor of economics, has devoted his life to the cause of environment. Unlike most preachers on the subject, he is also a doer.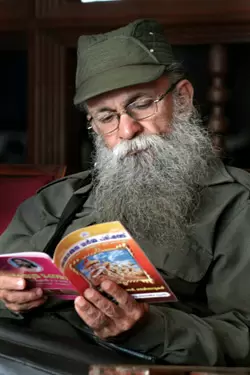 Earth Marshal: T Sobhindran, a retired professor of economics, is devoted to the cause of planting trees
You are most likely to spot him in Kozhikode on a green-coloured bike, suitably attired in green clothes which resemble military fatigues, like Fidel himself.
Which is just as well because in his effort to save nature, he is perpetually on the move. At 64, Prof. Sobhindran is, as they say 'in the field'.
Almost all trees on Kozhikode's main thoroughfare have been planted by his students on a "Save Earth" mission. Even before the government machinery came up with a viable blueprint for afforestation, Prof. Sobhindran was there.
His first experiment was in the Guruvayurappan College at Kozhikode, situated in a 100-acre area. Once the landscape was bleak there, virtually treeless. But back in 1976, he along with students in what can be only described as a Herculean initiative, started a long-term and well thought out afforestation programme.
Now there are more than 5,000 big trees and a sea of plants. In the intervening years, his green guards fanned out across the city, planting trees on both sides of roads as they went along.
The professor is a frequently saluted man but says he prefers the lush greenery to personal platitudes, which he shrugs off with nonchalance.
According to him, the time has now come when environmental activity must be transformed into a new, different form. "Schools are the best place to get results," he says.
As part of his boundless enthusiasm and on-going programmes, he conducts a journey of students from Kozhikode and Wayanad districts on every second Saturday of June, a process which began in 2006.
Pupils assemble atop the Wayanad Pass and they reach the valley negotiating ten sharp hairpin bends during the 15-kilometre pass.
Doing that, the tour is witness to the breathtaking splendour of the Western Ghats, abundant rain forest, waterfalls, rain clouds, mist, rare species of flora and fauna, animals and reptiles.
Starting off with 200 students who attended the first "prakruthi darsan yatra", (nature tour), the tour this year has attracted over 5,000 participants.

This is by far the biggest annual students' assembly for the cause of ecology and there are no guesses for knowing the man behind the movement: the professor of course. He intends to take the strength to a whopping 10,000 students next year.

According to him, the need of the hour is to intensify environmental protection struggles, rather than dilly dallying on the issue and just rendering lip service.
"It is not the time to write poems, stories or articles on environment. Instead, we must act in the field. We must re-look at the concept of environment and its link to nature. All governments around the world must have five-year plans to save nature," he says.

Asked how he would rate himself, his response would do Masanobu Fukuoka proud: a long silence accompanied by an attractive smile.

Published by special arrangement with The Sunday Indian


Trending Now: