After a successful cleanup operation last year, Jodie Underhill is all set to reach Kailash again
Vishal Gulati
&nbsp | &nbsp Chamba (Himachal Pradesh)
22-July-2011
Vol 2&nbsp|&nbspIssue 29
Before the pilgrims make their progress, anti-waste campaigners are heading for Manimahesh Lake at 13,500 feet, which offers splendid views of Lord Shiva's mythical abode of Mount Kailash on clear days.
The campaign is led by British national Jodie Underhill, known as the 'garbage girl' of the mountains, with the motto: "Help us to keep Shiva's home clean like ours is."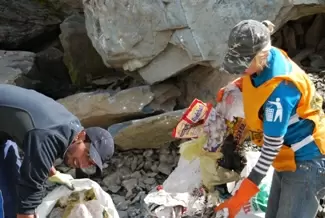 Clean up act: Volunteers of Mountain Cleaners engaged in a cleanliness drive
In the interiors of Chamba district, the lake is visited annually by more than 500,000 devotees, who undertake an arduous 14-km trek from the Hadsar base camp to the oval-shaped lake from where they can see Mount Kailash and offer prayers. But they inevitably leave a trail of litter behind and there is no official provision to carry back trash.
"The six week clean-up and recycling campaign in Manimahesh was quite a success last year. We will be there for eight weeks this time from next month," said 35-year-old Underhill, who heads Mountain Cleaners, a group of volunteers who have taken up as a mission the clean-up of the mountains in the state.
"We are running a waste management programme and aim to bring back as much waste as we can to maximise recycling and minimise dumping and burning," Underhill said.
The annual Hindu pilgrimage to the lake starts on August 22 and concludes on September 5. Mount Kailash towers above the lake, and on a clear day you can see its reflection in the lake itself.
The Mountain Cleaners, comprising Indians, Tibetans and foreigners, are reaching Hadsar almost a fortnight before the month-long pilgrimage begins to the glacially-fed Manimahesh Lake, over 500 km from Shimla.
The group is aiming to provide a daily waste collection service at all 'langars' or community kitchens and eatable kiosks from Hadsar to Manimahesh.
"Garbage bags will be provided to the 'langar' organisers to recycle the garbage as much as possible. This helps to reduce the amount being dumped or burnt," said Underhill.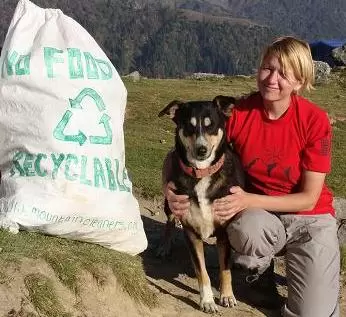 Founder's joy: Mountain Cleaners' founder Jodie Underhill with Toes, the team's pet and her personal 'bodyguard'
"Pits have been dug up by the organisers of the pilgrimage for burning waste, but we are providing an alternative by asking them to use these pits for composting biodegradable waste, including paper and food!"
The Mountain Cleaners will set up waste disposal and drop off points along the route at Bharmour, Hadsar, Dhancho, Gauri Kund and Manimahesh.
"We will encourage devotees to bring the waste they generate en route back to Bharmour and we provide them cloth bags. At present, there is no solution for non-recyclable waste," she said.
As per tradition, the devotees discard their clothes near the lake after taking a dip in the water.
"We will set up bins along the lake so that abandoned clothes are not dumped here and there haphazardly," she said, adding, "This time we will pass on discarded clothes to those in need".
Chamba Deputy Commissioner Devesh Kumar said the district administration would provide logistical support to the Mountain Cleaners.
Underhill's efforts are lauded by local residents. Shyan Charan, a resident of Hadsar, said: "Last year the waste was systematically managed with the sensitisation drive of the Mountain Cleaners."
Underhill and her group are currently collecting non-biodegradable waste dumped carelessly in the mountains surrounding McLeodganj, the seat of the Tibetan government-in-exile, in Dharamshala.
Arriving in Dharamshala in 2009 to learn about the Tibetan cause, Underhill was horrified to see the amount of garbage destroying the beauty of the local area and started organising mass clean-ups in the area. - IANS


Trending Now: