An Indian journalist's account of Freiburg: the world's ecological model city
Richa Sharma
&nbsp | &nbsp Freiburg (Germany)
13-July-2011
Vol 2&nbsp|&nbspIssue 27
The story of Freiburg, better known as the environmental capital of Germany, goes back to the early 1980s when local people stalled the installation of a nuclear power plant in the city and forced the authorities to switch to renewable sources of energy.
Since then Freiburg in southern Germany has become the world's ecological model city, which even provides free public transport tickets to all the tourists in the city to encourage them to use public transport.
Freiburg is much admired for its cycling, muesli eating and garbage recycling. Its broad climate protection measures have been attracting attention from across the world and even former Indian Environment Minister Jairam Ramesh has paid a visit to the green city.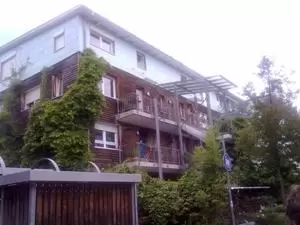 Model house: A low energy house with wooden and concrete facade to save energy (Photos: IANS)
Situated in the famous Black Forest bordering France and Switzerland, it also houses the world's first ecological district, Vauban, a solar-powered low-energy housing area inhabited by around 6,000 people.
Vauban was established in 1995 by a group of citizens who wanted to show their care for energy. In the last 15 years, the area has become the most sought after residential quarters where the majority of people want to live.
"The architecture of houses in the area is totally different from one another. But all of them have solar panels installed on flat roofs, a rainwater harvesting and recycling system, wooden walls and floor. People living there have to park their cars outside the society or at a common parking place to avoid pollution," says Astrid Maya, who has been living here for the last three years.
The area also has many passive houses - houses built in a way that they do not need energy for cooling during summer or heating during winter.
"Renting a house here is expensive compared to somewhere else but in the long term you save a lot of money that would otherwise be spent on power bills as the energy consumption in these houses is very less," said Maya, who works as a journalist.
This means there is a long waiting period as people who live here don't want to leave the place because of several benefits the housing area offers.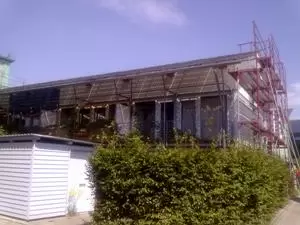 An under-construction house with solar panel roof top at Vauban district in Freiburg
"Vauban is the lowest energy consumption area of Germany which consumes only a quarter of energy consumed by an average household in the rest of the country. The solar energy produced by rooftop solar energy panels in the area is sufficient to meet 60 percent energy demands of the residents here," says Hans-Gerrg Herr, an expert in renewable energy here.
Hans, who trains people in solar energy equipment, says more and more people want to shift to renewable energy, especially after the Fukushima nuclear disaster in Japan in March this year.
"People's inclination towards clean energy can be seen from the fact that Baden Wurttemberg is the first federal state in Germany to have elected Green Party in the election early this year, thus ending a 50-year rule of the Christian Democratic Party," he said.
In the 1970s, the region of Baden-Wurttemberg planned to build a nuclear power plant near Freiburg. There was a major protest with widespread civil disobedience, and the plans were defeated in early eighties.
During this time, Freiburg developed a reputation as Germany's "ecological capital", and a wide network of environmental organizations, businesses and research institutes were founded. In 1986, with the nuclear catastrophe at Chernobyl fresh in their minds, Freiburg's municipal council voted to adopt the guidelines for a future-oriented energy policy which would set the pattern for Freiburg to become Europe's most prominent solar city.
Freiburg is also home to the world's best solar energy research institute - the Fraunhofer Institute for Solar Energy Systems - and the authorities work in tandem with the Fraunhofer Institute to take forward greening projects in the city. - IANS


Trending Now: