Along with fishermen, elite youth save Olive Ridley turtles on the Bay of Bengal coast

Hema Vijay
&nbsp | &nbsp Chennai
08-July-2011
Vol 2&nbsp|&nbspIssue 27
Until some years back, he would dig out the leathery, cricket-ball sized turtle eggs from their sand pits and use them to play cricket with his friends. And he was not the only one doing so in the fishing village of Periya Neelangarai on the East Coast Road (ECR), a few kilometres from Chennai. Today, young T A Pugazharasan is a turtle conservationist.
During the nesting season of the Olive Ridley turtles, between January and May, an eclectic bunch of people - school and college kids, lungi-clad fishermen and white collar types - patrol the beach along the Coromandel coast after nightfall.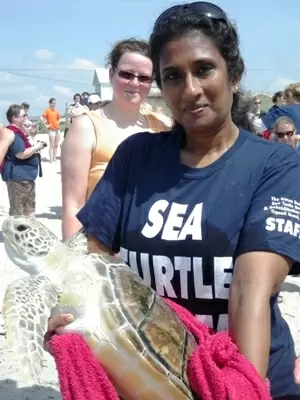 Turtle guardian: Since 2002, Supraja (seen in photo) and her team have released about 44,654 hatchlings into the sea
The Olive Ridley turtle has a remarkable nesting characteristic: It always makes its way back to where it was born to lay its eggs. It reaches the spot - right down to the same 500 metre to one kilometre stretch - and lays the eggs before going back into the sea. The emerging hatchling continues this incredible migratory tradition. Nesting is a regular occurrence on the coasts of Orissa, Andhra Pradesh and Gujarat. But, unfortunately, the turtles and turtle eggs get savaged by people, stray dogs and crows. Lights from nearby farmhouses and from vehicles plying on the ECR attract them to the roads where they get crushed under the wheels of vehicles.

That is why the informal protection squads on the beaches as well as the Kadal Aamai Paadukaavalar (Sea Turtle Protection Force or STPF), which comprises over 165 fisher youth living along the Coromandel Coast, are such a boon.

But how is it that turtle conservation has become a priority for the citizens of Chennai and those in its neighbouring towns? For this, one can credit artist-conservationist, Dr Supraja Dharini, the woman behind this 'save the turtles' mission.

She has not only converted youngsters like Pugazharasan into loving the turtle but has also created a sea change in the attitudes of the local community towards the turtles that inhabit the area.
In fact, since 2002, more than 44,654 hatchlings have been safely released into the sea, thanks to Dharini's initiatives. She has helped remove tonnes of debris from the Chennai coast with the help of the Indian Coast Guard, National Institute of Ocean Technology, South Asia Cooperative Environment Programme and Loyola College.
From being a successful artist - she runs her own art studio, Kalakruti, which she had started in 1991 - to becoming a saviour of turtles, it's been an interesting transition for Dharini. It was a dead turtle she noticed during a walk on the Neelangarai shore that triggered the change. "I noticed that it had been killed from cuts sustained from sharp wires, perhaps fishing nets," she recalls. On further inquiry, she found out that many such dead turtles were washed ashore regularly between January and March.

She went with fishermen on their catamarans and trawlers to gauge what exactly created this pointless massacre. She discovered that fishing nets needed turtle extruders, a device attached to the net that allows turtles to escape from the net, leaving the fish behind. And, more significantly, she understood that awareness building amongst the fishing community was crucial. So she toured village after village, talking about how important turtles are for sustaining fish in the sea, upon which rested the community's livelihood. She also roped in Dr Karthik Shanker of Wildlife SOS, who showed fisher folk slides portraying how turtles created areas for the fish to breed.

Once the fishing community was won over, it was time to get the youth involved. Youngsters in the villages along the ECR were trained to identify places where turtles laid eggs, to gently retrieve them and place them in easily-built safe enclosures, to guard them during their 48-day gestation period, and finally to safely lead the emerging hatchlings to the sea.

Dharini also set up the TREE (Trust for Environment, Education, Conservation and Community development) Foundation in October 2002. She now plans to start a marine biodiversity conservation research centre with a fully-equipped aquarium that would help create more bonding between humans and turtles. – Women's Feature Service


Trending Now: