India should be proud for its tiger population, says Belinda Wright

Akash Bisht
&nbsp | &nbsp New Delhi
17-June-2011
Vol 2&nbsp|&nbspIssue 24
In a small air conditioned office of a wildlife conservation organisation, Belinda is having a horrid time cleaning the jammed paper shredding machine. In a room full of tiger photographs and paintings, she expresses hope and joy over the increased tiger numbers in the country. "It's very good news," she says excitedly.

Known as one of the premiere tiger experts in India, Belinda Wright, 58, has been at the heart of tiger conservation for more than three decades. An award-winning filmmaker and photographer, she won two Emmy Awards and 14 other international awards for her path-breaking film Land of the Tiger. Her great understanding of the tiger and Indian forests goes back to her childhood. Born to nature lovers, Robert Hamilton Wright and Anne Wright, Belinda was surrounded by wildlife.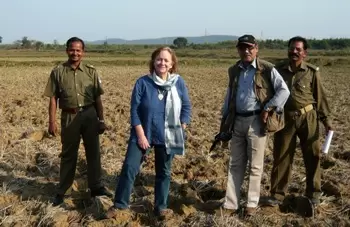 Number game: Not too excited about tiger numbers going up, Belinda says there's much more to be done for tiger conservation
Anne's compassion for nature made an impact on the daughter who decided to tread the same path. Anne was the founder trustee of World Wildlife Fund For Nature in the late 1960's. She was also a part of the Tiger Task Force formed by the then Prime Minister Indira Gandhi to choose nine reserves to start Project Tiger in 1973. Anne was also a member of Indian Board of wildlife and involved in the passing of Wildlife Protection Act.

Belinda saw her first tiger when she was three months old and photographed one at 17. She had various animals as pets and even nursed a tiger, leopard and lion cubs and spent a great part of her childhood in Palamau Tiger Reserve in Bihar and Kanha National Park in Madhya Pradesh. Her mother's influence and frequent excursions into the forest helped Belinda in realising the need to make nature as a career. She took up photography and filmmaking but soon realised that there is a need to save this great predator that was being forced to the edge of extinction.

She soon took up the cause of conservation and chose the daunting task of tackling India's growing wildlife trafficking, especially tiger parts, by founding Wildlife Protection Society of India (WPSI) in 1994. Today, the organisation provides support and intelligence to government agencies on increasing wildlife trade and has helped nab poachers from across the country.
Their report on the increasing demand of tiger parts in China was one of its kind. "I have dedicated my life to tiger conservation and I will continue to fight for it," she declares.

Relieved with the increased tiger numbers – tiger population in India has increased from 1411 to 1706 - Belinda believes that if the tiger has to survive, it has to be in India. "I am hopeful for its future but I am doubtful about the measures taken. If we have increased tiger numbers we also have 22,000 square kilometres of lost tiger habitat. These shrinking habitats would turn our great forests into glorified zoos," she adds.
Extremely worried about the loss of connecting forests to development activities like mining, road widening, among others, Belinda hopes that the government would choose to save the tiger rather than making them extinct.
Recalling a recent survey by Animal Plant which voted the tiger as the most popular animal, she says, "The world envies us because we have the single largest population of wild tigers and this makes us more responsible in our efforts to save the tiger."

Also Read:
Doing his bit to ensure that the tiger roams the Indian forests
Wish to share your story?
Trending Now: