First time MP Jyoti Mirdha is committed to tiger conservation

Akash Bisht
&nbsp | &nbsp New Delhi
27-May-2011
Vol 2&nbsp|&nbspIssue 21
When the entire country is watching women making significant progress in the political and administrative spheres, a young woman politician has chosen to excel in the field of tiger conservation. Burning the midnight oil to pore over papers pertaining to tiger conservation has become an obsession for Jyoti Mirdha – a first time Congress MP from Nagaur, Rajasthan. A medical doctor by qualification, Mirdha is also a member of National Tiger Conservation Authority (NTCA).

Her constituency has a sizeable population of Bishnois – a community of traditional conservationists for whom animal conservation and a vegetarian life is a religion. Jyoti says that their 'way of life' has had a lasting impact on her.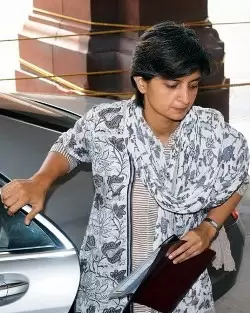 On a mission: Jyoti Mirdha wants to give a humane face to tiger conservation and address the plight of villagers in tiger reserves
Observing that the national tiger conservation programme has the right attitude, but an obsolete mindset, she points out how the forest guards continue to protect the tigers with lathis while the poachers are armed with modern weaponry.

The 39-year-old MP is concerned about the organised poaching mafia operating across different tiger reserves in the country. "Sariska was a classic example of how helpless this magnificent cat is," she rues. It was in Sariska Tiger Reserve in Rajasthan that poachers wiped out the entire tiger population in 2005.
Blaming the man-animal conflict for tiger disappearances, Jyoti feels lesser the human intervention in tiger habitats, the better it is for the animals. "Till the time there are villages inside the reserve, tigers would continue to face extermination. For urban dwellers tigers might be symbol of national pride, but for villagers it is a nuisance that kills their cattle and is forcing them out of their lands," she points out.

However, this young Congress leader is careful not to blame the villagers. She feels if there is a better rehabilitation policy, villagers in tiger reserves would be only too willing to move out.

She is also for making villagers stakeholders in tiger conservation. "Hire them as guides and guards; once they become stakeholders they would ensure the safety of the animal that provides their daily bread," she adds.

Noting that young MPs are more environmentally conscious, she suggests each young MP could adopt a tiger reserve or two. She also feels there needs to be a check on reckless tourism, illegal mining and other developmental activities both inside and outside these reserves. A crusader of eco-tourism, she promises to take up the issue with the concerned authorities for making tiger reserves as biodiversity hotspots rather than glorified zoos.
It may be noted here that the rampant construction of resorts and hotels in some of the tiger reserves in the country has severely affected the free movement of tigers along contiguous forest belts and is one of the causes for the fall in tiger population.
Following in the footsteps of her grandfather — Nathuram Mirdha — Jyoti is hell bent on making tiger conservation a key issue. A parliamentarian, freedom fighter, social reformer and popular farmer leader of Marwar region in Rajasthan, Nathuram was committed to the causes of the people, especially farmers. Jyoti says that it's in her blood to fight any injustice.

Wish to share your story?
Trending Now: