Plans afoot for the great Himalayan bird trail in Dehradun

Kavita Kanan Chandra
&nbsp | &nbsp Mumbai
14-March-2011
Vol 2&nbsp|&nbspIssue 10
If you are an avid birdwatcher or have always dreamt to be lost in the lap of the Himalayas spotting attractive feathered friends then you may want to be part of 'The Great Himalayan Bird Count' to be organised in Dehradun later this year.
The 'Action & Research for Conservation in Himalayas' (ARCH) is organising its fourth edition of annual bird count from November 2-5 in Dehradun. ARCH, which is into avian conservation, is promoting Uttarakhand as a global birding hotspot with the help of rural youth.
During the bird count season, village youth with interest in bird watching are roped in as guides for volunteers who arrive from many parts of India. The youth help in identifying home stay facilities where local cuisine is served. The initiative helps in some revenue generation for the locals during the bird count season, which is entering its fourth year now.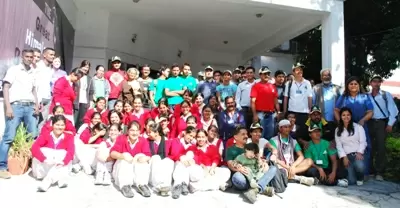 Bird watchers: Around 120 participants take part in the Great Himalayan Bird Count every year in Dehradun. (Picture above is a file photo of one of the past teams)
"Few people in our country are aware of the joys of bird watching. Most talk only about tigers and leopards," says Prateek Panwar, founder ARCH. Being a wildlife documentary filmmaker, Prateek fell in love with the winged beauties during his jungle visits to document wildlife. He later turned into a diehard bird watcher and conservationist.
In their maiden bird count ARCH had recorded 218 bird species and next year in 2009, 269 species. They would table the result of 2010 bird count in November. "There is excitement of seeing some new species each time," says SS Ahmed, an avid bird photographer of Dehradun.
Prateek informs that they cover diverse habitats ranging from wetlands to high alpine region. This includes 36 popular trekking trails like the river valleys of Tons; Yamuna; Bhagirithi; Bhilingna; Ganga; Mandakini and Alaknanda in Garhwal Himalayas.
"This time I would be going through Gangotri trail," says Rupali Madhavi from Mumbai, who has been part of two earlier editions. "Himalayas is God's gift and spotting birds there is amazing," she says.
ARCH has limited capacity of just 120 people who would be split into 16 groups. Each group of five birders would have few urban school kids, rural youths, forest-line staff and students from Government schools.
The event will be organised with the support of the forest department and there will be interaction with local village elders to generate list of vernacular bird names and oral folk stories related to them.

Wish to share your story?
Trending Now: