An IT couple reboots farming practices to ensure that workers do not logout

Sudha Narasimhachar
&nbsp | &nbsp Bangalore
11-March-2011
Vol 2&nbsp|&nbspIssue 10
Aravind and Gayathri make an unusual IT couple. Married for three years, the Bengaluru based couple travel 350 km to Coonoor in Tamil Nadu every alternate weekend to work on their farm.

Even before they got married, both shared concern on ecological matters and were interested in sustainable agriculture. After marriage, during one of their pleasure trips to Ooty in 2008, they discussed about organic farming with friends there.

"We met Mahesh, who was already working to spread awareness about organic farming and eco-protection among the farmers of Nilgiri Biosphere. He explained to us about the various issues faced by the local farmers like market intermediaries, vagaries of nature and marketing problems that drove them to seek alternative employment in the tea estates or in nearby towns. During our discussions, we thought of establishing a model farm to prove that it was possible for one to depend upon agriculture as a means of livelihood. Thus was born Ashwattha Farm with Mahesh playing a major role," says Aravind Prakash (33), originally from Trivandrum, now working for a leading technology service provider in Bengaluru.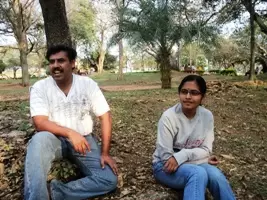 Green couple: Aravind and Gayathri want to demonstrate that farming can be a viable occupation and encourage more people to emulate them
The couple plunged in boldly and quickly looked around for the right piece of land. They found a ten acre land in a beautiful location, skirted by a perennial stream on three sides and thick jungle on one side. They got the land on lease and started off in 2008. It took nearly a year to prepare the land for cultivation, dig a couple of open wells and fence the land. They still face many problems from the wild beasts that stray from the forests, labour issues and such other things. But they are determined to overcome all their troubles.

"Our intention originally was to assist the local farmers to restart or continue farming but we found their previous experience had very strongly influenced their decision to search for other kinds of livelihood. That's when we thought we could influence them only by setting an example. We sowed our first set of seeds in October 2009.
We started with 18 different kinds of vegetables like carrots, cabbages, beans, peas, cauliflower, broccoli and so on. We discussed with various experienced people in the field, including the Director of Horticulture of Nilgiris," says Gayathri (28).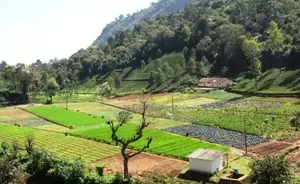 Ashwattha Farm: Spread over ten acres, the Coonoor farm of Aravind and Gayathri employs about 25 workers and generates a revenue of about Rs.1.25 lakhs per month
Ashwattha Farm caters to a limited clientele of around twelve organic stores spread across Karnataka, Kerala and Tamilnadu. The crops are sold at cost plus a very small margin. The pricing is determined by the input cost and not based on prevailing market rates. When carrot prices crossed Rs.60 per kg at one time, they continued to sell at Rs.34 per kg.

"We pass on the profit to the consumers as much as possible. Thus the cost may seem high during some months but low during others. But there is absolutely no middlemen and our clients are rest assured of 100 percent quality and fair price," says Aravind. At the moment, they incur a loss of about Rs 40000 a month. But Aravind is confident of breaking even in about five years.

The couple is out to prove that farming is economically viable and ecologically sustainable, provided the farmers, the Government and everybody else take that little extra effort to understand the planet, the rich knowledge of our traditional farmers and use nature only to feed our need and not our greed.

Wish to share your story?
Trending Now: