A roof garden in garden city, a wonder of modern times

Marianne de Nazareth
&nbsp | &nbsp Bangalore
04-March-2011
Vol 2&nbsp|&nbspIssue 9
Nothing prepares the first time visitor to the fifth floor of the apartment building in Bangalore for the delightful experience: A complete riot of colour and a whiff of flowery perfume. In the veritable Shangri-la laid out up on the roof, Ivy completely covers a entire wall, a lush emerald green lawn spreads over one third of the area and the pink and white trumpet shaped blooms of a Quisqualis tumble in scented abandon down another wall.

It is a garden nurtured by Snehalatha Naidu with passion. "We got the lawn when we purchased the flat, nothing else!" reveals fifty-year-old Sneha, "My husband who works in the merchant navy bought the first five pots for me. Now there are 200 pots and they were collected slowly over time. Initially my mali (gardener) came once a month, but now he comes in three times as the number of plants have more than doubled. He trims, re-pots and generally keeps an eye on the entire garden. The rest of the month the house help and I water the garden and enjoy it."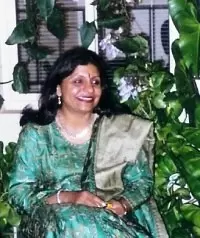 In bliss: Snehelatha rolls out of bed and into the garden every morning, where she has her first cup of tea for the day
Since Sneha's bedroom skirts the garden, she literally rolls out of bed and into the garden where she has her first cup of tea for the day. "I love sitting out under the creepers and vines in the company of squirrels and bird song first thing in the morning. In the front I have all the flowering plants and in the back half I have my little kitchen garden. I also make my own compost with the leaves from the plants and the wet waste from the kitchen."

Sneha has two large terracotta pots full of homemade compost. All the vegetable skins, fruit peels and food waste go into the compost and Sneha is proud of the fact that they do not use any chemical fertilizer for the garden. "I had a good crop of passion fruit and double beans this year from the kitchen garden. In fact, we don't buy curry patta, pudina, limes and celery, as it's all grown in the garden."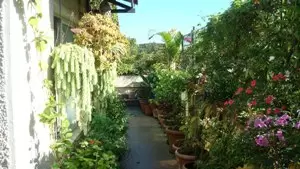 Sneha stopped buying plants a long while ago as well. The mali while clearing another garden brings in plants from there and takes her abundance to another house in a happy swap.

Sneha also loves to pick up knick knacks from her travels for the garden. "I just hand carried a frog and solar flower shaped lights from the UK and also the bamboo ducks from Indonesia," she reveals. There are a variety of wind chimes too which tinkle around the garden adding to the soothing ambience.
"When the house begins to feel like its closing in on me, I just wander around the garden watching the sunbirds sipping nectar, the turtle doves cooing making their nest in the ivy or even the two fruit bats which hang in the tiny portico covered with vines," she says.
Wish to share your story?
Trending Now: