A spiritual guru who inspires people to protect nature

Rama Devi Menon
&nbsp | &nbsp Hyderabad
04-February-2011
Vol 2&nbsp|&nbspIssue 5
Trees are our closest relationship. What they exhale, we inhale. What we exhale, they inhale. This is a constant relationship that nobody can afford to break or live without," says Sadhguru Jaggi Vasudev, founder of the Isha Foundation, nestled in the foothills of the pristine Velliangiri Hills in Coimbatore, Tamil Nadu.

Together with its active and dedicated volunteer base of over 250,000 men and women from more than 200 city-based centers across the world, the Foundation's activities serve as a model for human empowerment and community revitalization throughout the world.

The Foundation launched Project Green Hands in June 2004 during the World Environment Week, as part of its efforts to protect the State of Tamil Nadu from a socio-economic disaster due to environmental degradation. Project Green Hands aims to increase the green cover of Tamil Nadu by 10% in the next 10 years by planting 114 million saplings through a mass movement.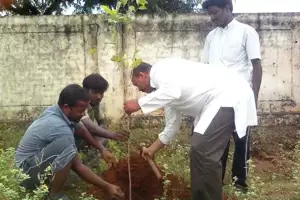 Green warriors: Project Green Hands launched by Sadhguru Jaggi Vasudev's Isha Foundation has inspired thousands to take to tree planting
Since 2007, the project has been expanding to form successful partnerships with people who wish to make a difference to the environment around them. The project seeks to discuss with potential partners who are strategically engaged in that field through their core activity or through a foundation, or who already have commitments with other non-governmental organizations.

Although the project was started in Tamil Nadu, volunteers all over India have been inspired and launched afforestation efforts in their respective States successfully. The model tree plantation program has become a mass movement aimed at protecting the environment.

According to the foundation, 5,000 volunteers planted 25,000 saplings in six tsunami-affected villages in Tamil Nadu in 2005. In 2006, the volunteer base increased to 256,289 and created a Guinness World Record when 852,587 trees were planted in 6,284 locations across 27 districts of Tamil Nadu as well as Pondicherry. In 2007, the Foundation produced and planted more than 4 million saplings in Tamil Nadu with support from the Yves Rocher Foundation of France.

In 2008, the Foundation raised more than 2 million saplings by creating 427 nurseries, and the saplings were planted all over Tamil Nadu and Pondicherry to reach 75,000 people with support from international funding organisations and the District Administration. The same year, Isha's Project Green Hands was recognised and included in the annual budget of the Tamil Nadu Assembly.

In 2009, more than 1.17 million saplings were raised and planted in Tamil Nadu and Pondicherry, and in 2010, 2.08 million saplings were distributed for planting in Tamil Nadu and Pondicherry.

In 2010, the project received the highest environment award in India, The Indira Gandhi Paryavaran Puraskar (for the year 2008) under the Organization Category from the Indian Ministry of Environment and Forests. Former President Dr. APJ Abdul Kalam presented the award on June 5 (World Environment Day) to Sadhguru.

On September 30, 2010, the project was awarded the "Sport for the Environment" award at the Beyond Sport summit in the US city of Chicago. Beyond Sports is a global organization that promotes, develops and funds the use of sport to create positive social change across the world.
Community participation has been the key to the success of Project Green Hands. As Sadhguru says, "In planting a tree, you create something far bigger than yourself that will live well beyond you. This massive expression of concern and commitment for the wellbeing of all is unique and beautiful beyond human understanding."


Trending Now: