When Zubin Garg brought the naturalist out of Monsoon Jyothi Gogoi

Kavita Kanan Chandra
&nbsp | &nbsp Mumbai
28-January-2011
Vol 2&nbsp|&nbspIssue 4
It was at a nature awareness workshop in his college in Upper Assam's Bokakhat that Monsoon Jyothi Gogoi met his childhood singing idol, Zubin Garg first. But when he wandered the woodlands clicking butterflies just to impress the famous Assamese singer, the Zoology student discovered his passion.
Now 23-years-old, Monsoon has been working for the past five years, photographing butterflies, and has recorded some rare and endangered species of Northeast that no other naturalist has done before.
Always passionate about nature, having grown up in the midst of lush forests and tea gardens, hardly 23 km from the world famous Kaziranga National Park, Monsoon urges people to act now so that forests survive and species do not get extinct. For his work, he was been honoured as an Earth Hero with the 2010 Wildlife award, given by Sanctuary Asia magazine and RBS (Royal Bank of Scotland) group.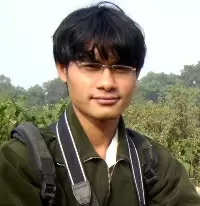 Earth hero: Monsoon Jyoti Gogoi has documented over 500 species of butterflies and campaigns for creation of national parks and wildlife sanctuaries
A postgraduate student in Wildlife at the North Orissa University in Baripada, Orissa, the young naturalist also volunteers for the World Wildlife Fund (WWF) whenever he is requested.
"My work is basically to document the butterfly diversity and use it as a weapon to fight deforestation by helping WWF to declare the area as protected," says Monsoon. Having documented biodiversity of Bornodi-Khalingduar reserve forest, and different corridors of Kaziranga-Karbi Anglong, he is currently working for a proposal of declaring Jeypore-Dehing reserve forest of Assam for National Park or Wildlife Sanctuary status. He does all this because of his love for Assam forests and is currently also chasing the winged beauties in forests of North Orissa.
"One reason I joined this University (North Orissa University) is because it has a wonderful wildlife department established by a Zoologist, S K Dutta," says Monsoon. In the process, he also got hooked to the unexplored forests of Northern Orissa where he wanders to spot rare butterflies.

Monsoon still considers him a beginner though he has documented over 500 species of butterflies. Some of his rare catch of butterflies that no one has documented or photographed in recent times includes species like White Punch Dodona (Henrici longicaudata), Pale Striped Dawnfly (Capilia zennara), Purple Lancer (Salanoemia fuscicornis) and Yellowband Palmer (Lotongus sarala).
He has special interest in Skippers, the unexplored butterfly group belonging to Hesperiidae family. "It's very tough to capture them in camera, for once disturbed they cannot be relocated. They are called skippers because of their quick flight," says Monsoon.

Listening to Monsoon, one realizes how each species in our environment has a role to play and how important they are for the ecology. The onus lies on every citizen to protect our forests, not alter nature for our greed and make a better tomorrow for generation next. We also realise that we need more Earth heroes like Monsoon.


Trending Now: