Water conservation and rain water harvesting are in the agenda of the new Miss Earth

Marianne de Nazareth
&nbsp | &nbsp Bangalore
24-December-2010
Vol 1&nbsp|&nbspIssue 17
Among the young Indians with a sense of social responsibility is Nicole Faria, who was crowned Miss Earth in Vietnam recently. The Femina Miss India South 2010 title holder, who is the first Indian to win the title in the ten year history of Miss Earth, is perhaps the right choice, for she is very fond of nature. She would pick a puppy infested with fleas from the roadside and take it home for cleaning it up.

"The Miss Earth title is really me. It's a much nicer role as it has a huge social service responsibility and I will have to travel extensively around the globe, though based out of the Philippines," says the Bangalore girl."The main thrust and focus of this year will be around fresh water conservation and rain water harvesting, which I will push especially in India."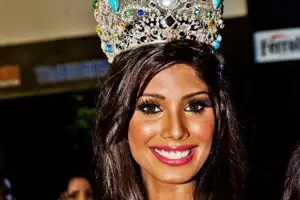 Miss Earth Nicole Faria believes in the doctrine of 'reduce, reuse and recycle' and is excited about the social responsibilities awaiting her
United Way, one of the biggest Charities in the US has asked her to be their brand ambassador. They have planned to launch a huge campaign in Bangalore to clean up the 14 lakes in the city, which they would sponsor. "3000 young techies have come forward as volunteers to help clean up these lakes and rejuvenate them. I am so pleased to be part of this social service programme in my home city," she says.

"I will also tie up with U Solar, which is an Australian company, to launch the use of solar energy in villages where there is no electricity. Solar power will become big time in India as it is free and plentiful."

"I believe in the key tenets that we as humans need to reduce, re-use and recycle. Instead of plastic we should carry our own cloth bags; we need to recycle lots of items like metal and plastic instead of wasting and littering the earth. Wind energy is also free and we need to look at that too in a big way," advises Nicole.

Today the world is at Nicole's feet. As her parents say, the title has opened new doors for her. In Vietnam the Consul General of India met her along with 100 Indian businessmen.

"This year she can do very well especially in India because that is where her heart is. She would like to come back and work in her own country, rather than in the Philippines and we are negotiating that," says her father, Ian.

Wish to share your story?
Trending Now: