When passion and profession meet in the heart of nature

Kavita Kanan Chandra
&nbsp | &nbsp Mumbai
09-December-2010
Vol 1&nbsp|&nbspIssue 15
Nature and adventure are the buzz words that drive Mazhar Asif Ebrahim. By turning his passion into a profession, he founded Nature Knights, an organisation that holds adventure events. As on date, Nature Knights has organised over 1500 nature events, which include activities like trekking, mountaineering, sailing, snorkelling, wildlife camps and rural tourism. And their chilling out spots are located across the country, with many of them tucked away in remote places.
Two decades ago when Asif started the Nature and Eco-adventure club at Bhavan's college, Andheri, it was due to the common interest among friends for nature, travel and adventure. Though Asif opted for a job after college and joined the Information Technology Industry as a solution sales specialist, he kept alive his hobby by organising treks, nature orientation camps, environment conservation and exploring places of cultural and heritage importance like forts, caves and ancient temple complexes.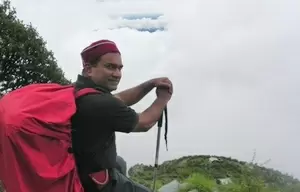 When you get paid for following your passion, this is how you feel – on top of the world
But the passion overwhelmed him one and half years back and Asif turned his passion into a full time enterprise. Now, Nature Knights has broadened its horizon to organise adventure sports and shoulder some social responsibility too.
It is Asif's love for nature that has made him very conscious about the protection of environment. He is all for eco-travel that he calls minimum impact travel. When they trek they ensure that none of the flora are spoiled, no rubbish is thrown and the local culture is respected.
He is concerned about the environment change that he has been witnessing in the past two decades. Beaches have deteriorated and mangroves cut down as builders encroach the land - the latter variety is a major problem in and around Mumbai. "In those days there were more than thirty panthers in Sanjay Gandhi National Park but now there are hardly ten," he rues. As panthers are at the top of food pyramid, any decrease in number reflects the depletion of forests, its flora and fauna.
However positive steps to conserve environment are being taken in some places. Asif is full of praise for the tiny state of Sikkim where plastic had been banned a decade ago, and some places in the Northeast, which still remain pristine.
Asif has also made foray into Eco-Tourism, which includes Agro and Rural Tourism, Heritage and Culture Tourism, Offbeat Travel Destinations, and Eco-Adventure Tourism.

Talking about the thrill of exploring caves, he says, "There are a lot of unexplored caves near Ratnagiri in Maharashtra - sometimes we don't know what to expect inside them. The caves might have water and we need to wade through them."
He says adventure sports like rappelling help one to overcome fear. When people take part in such activities, they feel a change in their personality for the better and gain more confidence.

Trending Now: