When a Pakistani invited her to tie rakhis

Kavita Kanan Chandra
&nbsp | &nbsp Mumbai
03-December-2010
Vol 1&nbsp|&nbspIssue 14
Suniti Yadav was delighted when she received a letter from Pakistan after this year's devastation by flood and earthquake. One citizen, who was aware of Suniti's tree conservation programmes, has written that a solitary tree in a place had saved many lives during the recent flood. People had literally hung for their lives. The writer, who lamented the felling of trees, invited Suniti to go to her country and use her unique way of tying 'rakhis' to old and big trees. Even though the custom is alien to them, the basic philosophy; 'Trees are our brothers' extend to all humanity.

"When I tell common people that trees are like their God Shiva, which drink the poison in the environment just as Shiva had drunk 'vish' (poison) after the 'Amrit Manthan' (churning of the nectar) to save humanity, they understand," says Chattisgarh based Suniti who is in her forties. With an inherent love for saving the green cover of our environment, she firmly believes that forestry is not simply a question of tree; it is above all a question of survival of human beings.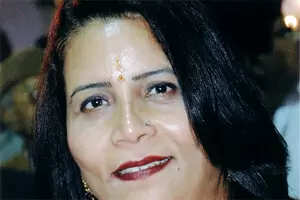 Big Sister is watching: Suniti Yadav extends protection to trees by exhorting women to embrace them as their brothers
How did she have the idea of tying 'rakhis' to save felling of trees? Suniti recounts that when her forester husband was posted in a little town called Jashpur in Madhya Pradesh, they cherished their evening walk amidst thick old trees in their bungalow's vicinity. One day she came to know that three of the five huge trees of Sal (shorea robusta) and Saagaun (tectona grandis) were to be chopped to make a tea stall in her neighbourhood. She couldn't bear to see the felling of those trees and so on the day of 'Raksha Bandhan', she went to the spot with few women and did 'puja' and tied 'rakhis' to protect them.

"By evening the word had spread and around 1300 people had paid obeisance to those trees and hailed them as their five brothers," says Suniti. This was an immense encouragement to her and next year in 1993 about 17000 people tied rakhis to 1340 trees in several villages on a single day and took a vow to protect them.
A simple act of thoughtfulness and courage done with conviction and a deep desire to protect nature bore fruit for Suniti as she launched 'Vriksha raksha sutra karyakaram' (tree protection programme) and established the Green Guardian Society. Her drive to save trees caught on and it has now spread to nine states and even to countries like Sri Lanka, Singapore and Canada.

Suniti has come a long way from her student days when her visit to Baba Amte's 'Anandvan' in Chandrapur had inspired her and changed her thinking about lepers. Her love for humanity and environment later prompted her to persuade the then Governor of Madhya Pradesh Sarla Grewal to launch a socio-economic rehabilitation project for lepers, 'Arunodaya' in Raigarh. There she encouraged them to plant trees.

In July 2010 the United Nation Environment programme (UNEP) recognized her good work and now her society could use its logo for the 'Billion Tree Campaign'. She has been conferred with various awards such as 'Stree Shakti Puraskar-2002', 'Maharana Udai Singh National Environment award-2004', and 'Zee Astitva Award-2007'. She also received the 'Godfrey Phillips Bravery award' in September.


Trending Now: