IIT couple's Dream Mud House in their Food Forest was a Labour of Love
Arpit Maheshwari
&nbsp | &nbsp Ujjain
22-February-2022
Vol 13&nbsp|&nbspIssue 8
Five years ago, Sakshi (my wife) and I decided to drop out from an urban, corporate life to explore our deeper aspirations and build a more meaningful life.

We had worked in some of the best finance and tech companies in India and the US for many years after graduating from IIT Bombay and Delhi respectively.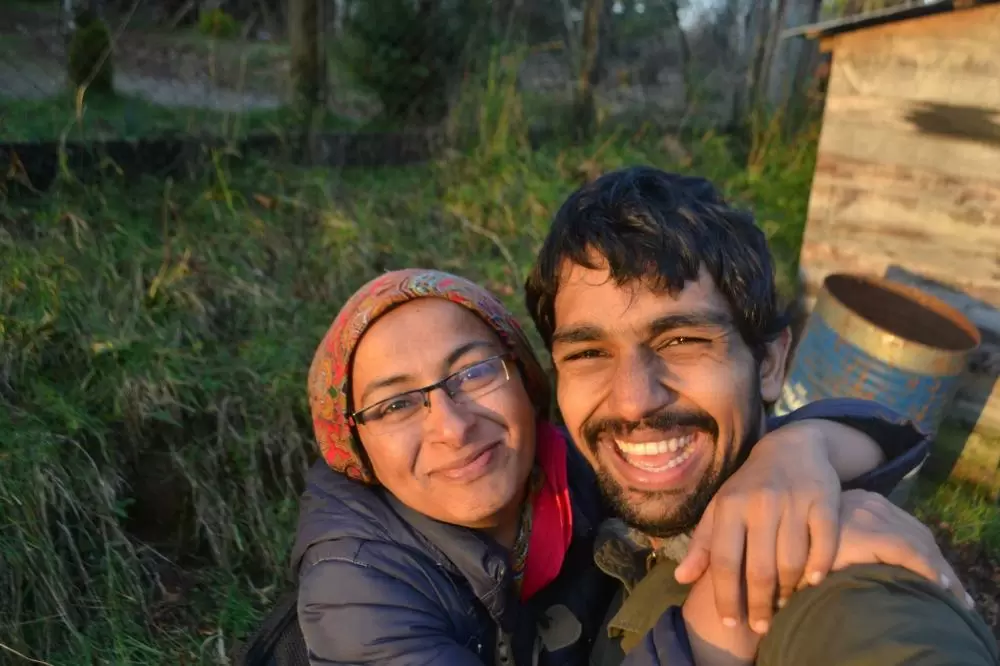 Arpit and Sakshi quit their corporate careers for a more simple, peaceful and healthy way of life (Photos: Special Arrangement)

We came to realize that the important explorations of life don't deserve to be kept on the back burner. This thought was powerful enough to motivate us to pack our bags and travel to South America for a year on a sabbatical.
Our experiences were an eye-opener about the ground reality of climate change and we have never returned to an urban life since then.
Instead, we live a farm-based life based at Ujjain, a small town in central India, treating it as a series of experiments on conscious living. Trading off glamor, comforts and corporate careers with simplicity, peace and health is something unregrettable for us.
After we had set up the basics on the farm like fencing and earthworks, it was time to consider building a shelter.
In the spring of 2019, we embarked on a two-month adventure of constructing a shelter from scratch and with our bare hands - a journey full of dreams, experiments, and reality checks, but above all one of the best learning experiences of our life.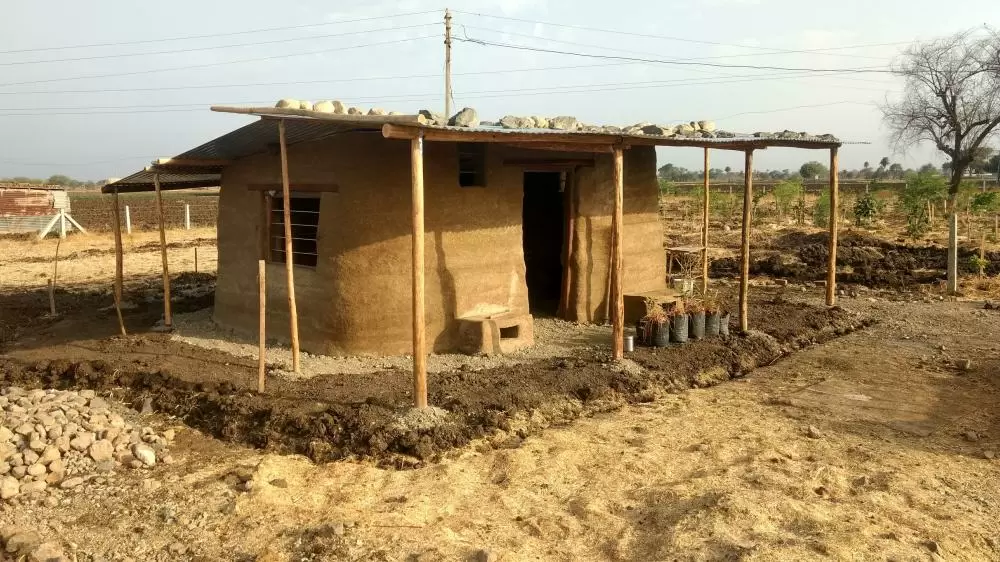 The mud house that Arpit and Sakshi have built in their farm
It was like a time machine taking us back to how ordinary village houses were built before the modern cement revolution.
We gave our blood, sweat and tears to building this mud house, which is a modest 200 sq ft room built in the middle of our food forest - Jeevantika.
One of the things we learnt in the course of our exploratory journey was how powerful intentionally designed spaces can be, how they can connect people and be a source of joy, while serving multiple functionalities at the same time.
Inspired from some of the eminent sustainable architects of modern India like Didi Contractor (Himachal Pradesh) to the likes of Mahatma Gandhi, who had asked for his Wardha house to be built from materials sourced only from a 2 km radius, we were convinced that this core shelter on the farm must be built using local and sustainable materials.
Our research began with the local villagers in our region. While one can still find mud-based houses in Indian villages, they are significantly dwindling in numbers and most of them use chimney bricks.
Even though the traditional knowledge of building with earth is getting lost among the villagers, there are some natural builders working with sustainable materials and trying to pass on the heritage to future generations.
One such woman is Becky Bee, who wrote a wonderful handbook on building with Cob - old-fashioned concrete, made out of a mixture of clay, sand, and straw. It's rare to come across a book written on a subject matter with so much love.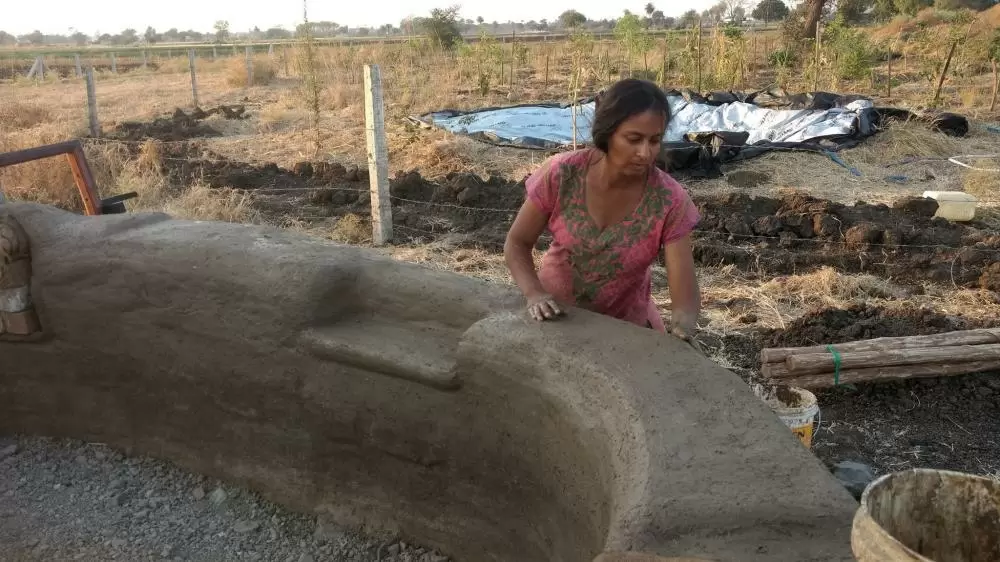 The couple did not mind dirtying their hands to build their dream house
All through our journey of building this sweet home, we felt her presence and kept referring to her almost as a team member. We also got in touch with a few practitioners in India who were very helpful to answer our queries.
Our design and execution was highly iterative as we were learning things every day by trying them out.
There were so many considerations - whether to have rounded or sharp corners, the slope of the roof, the length of the overhang for rain protection, composition of the plastering mixture, designing a false ceiling for insulation and so on.
To get our hands dirty, we built a small wall first, which helped us finalize the actual recipe of the cob mix and decide whether to use anything along with cob like bamboo etc.
While the locals pointed us to use a specific type of clay (yellow in color) for any construction, we were adamant on using substances available on the farm and not transporting a huge quantity from elsewhere.
After a lot of trials, we were able to find a good combination of the black clay soil of the farm and the laterite subsoil that had come out during the recharge pond excavation.
The sight of two software engineers toiling to build a "kuchcha" house attracted a lot of passersby during that time.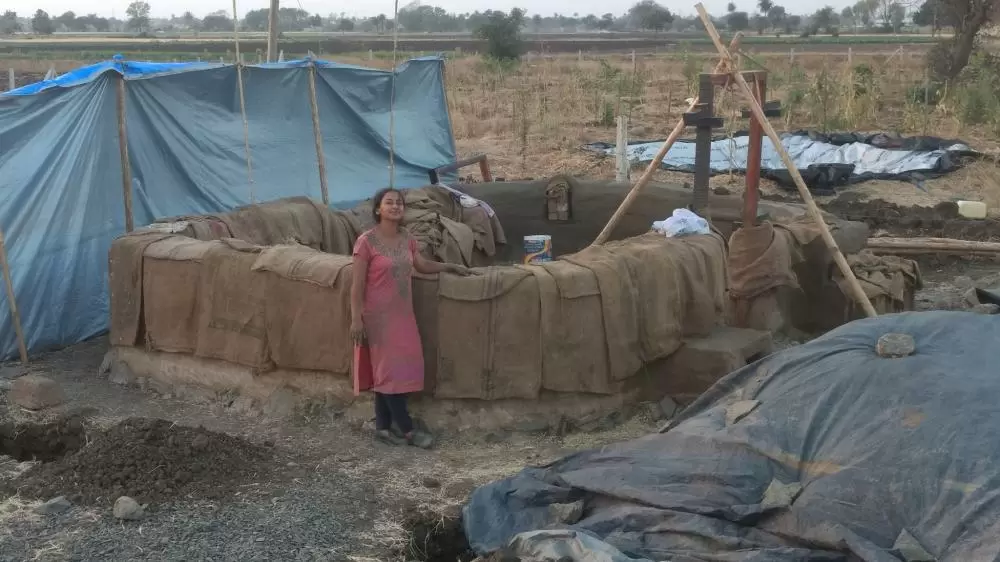 Sakshi posing beside their half-finished mud house
While the common notion is that a mud house is a temporary structure, it can easily outlast a modern cement-based house if built the right way.
We only have to spend a few hours every year on the maintenance as we are about to celebrate the third birthday of the mud house this summer.
The building of the walls was relatively slow (around 5 inches per day) because no bricks were used and we were creating the entire mix from scratch that had to be applied on top of the previous day's work.
Building with mud is like sculpting - there is plenty of room for creativity and Sakshi ensured that we didn't lose this opportunity.
We built plenty of storage shelves, an entire mud bench and general artwork to make the place welcoming as well as practical.
While this was a full time job for us, we were also lucky to have helping hands as many curious volunteers joined us in the process.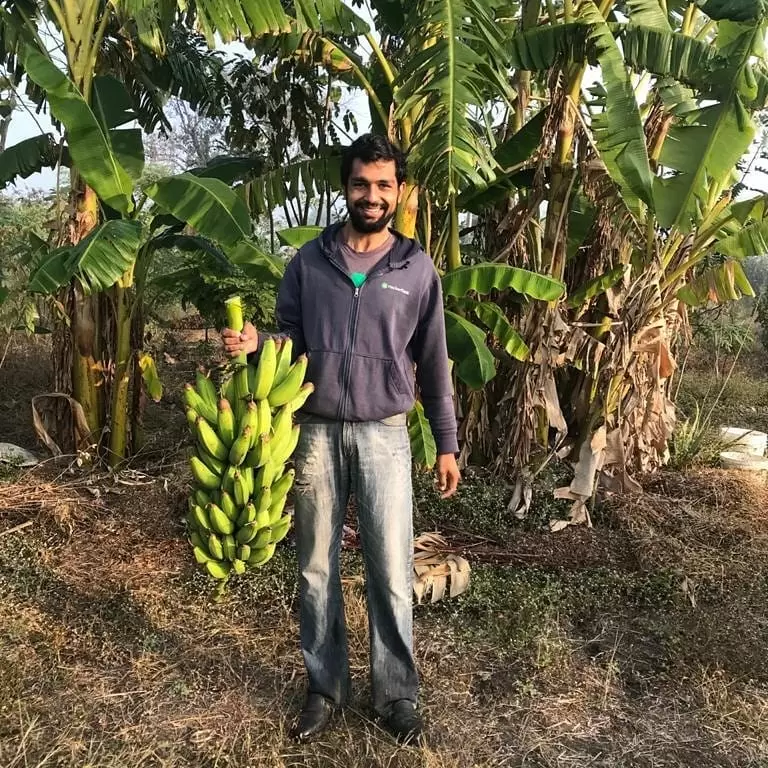 Arpit with the bananas harvested in the farm
The first thing we did after finishing the construction was to reach out to our virtual teacher from the other end of the world - Becky Bee.
Getting an email response from her made our day as she wrote "That is such a beautiful thank you. I feel it in my soul. It looks like you have done a FABULOUS job!! You look radiant and have made me smile all day."
We feel so grateful that we've been able to build this simple yet beautiful structure which has year-round temperature regulation, is not only a storehouse-cum-shelter but most importantly a space for people to come together and enjoy our farm.
Arpit (& Sakshi) are IIT graduates who live in a small town near Ujjain (MP) and practice sustainable living. Check out their website to connect with them
Wish to share your story?
Trending Now: