Greater flamingoes spotted for the first time at Himachal's Pong Dam wetlands
Vishal Gulati
&nbsp | &nbsp Pong Dam (Himachal Pradesh)
01-February-2017
Vol 8&nbsp|&nbspIssue 5
More than 125,000 birds of 93 species have been spotted in Himachal Pradesh's Pong Dam wetlands. Among them, greater flamingoes, a common migratory species in India's coastal areas, have been recorded for the first time here, an official said.

A total of 52,530 bar-headed geese, the world's highest-altitude migrant and a rare winter migrant in other Indian wetlands were also recorded. They are regular winter migrants here.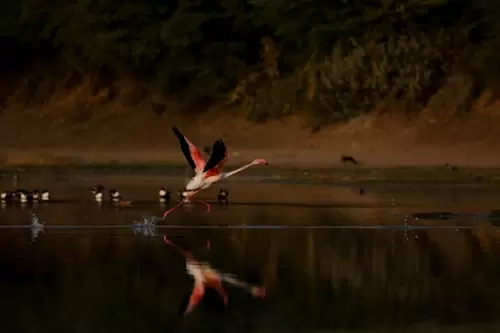 Four greater flamingoes were recorded in the Pong Dam wetlands for the first time, according to forest officials (Photo: Freeimages.com/ Alok Brahmbhatt)

During a three-day census of waterfowl species -- birds that depend on water bodies for roosting and feeding -- 127,200 birds were spotted in the Pong Dam wetlands, spread over 307 sq km, said Assistant Conservator of Forests D.S. Dadwal, who was associated with the exercise.

Besides the bar-headed goose, the other largest influx is of the common coot (15,632), northern pintail (11,470), common teal (10,284), common pochard (8,746), little cormorants (6,434), tufted pochard (3,838), northern shoveller (2,350) and ruddy shelduck (1,900).

The other noticeable species recorded are the great crested grebe, graylag goose, red crested pochard, ferruginous pochard, common merganser, Eurasian spoonbill, Richard's pipit, Blyth's pipit and many species of larks.

The man-made Pong Dam wetlands, one of the largest such in the foothills of the Himalayas in the picturesque Kangra Valley, are located 250 km from state capital Shimla.

Dadwal said four greater flamingoes were recorded in the Pong Dam wetlands for the first time.

The bird, which stands four feet tall with its S-curved neck and is a common migrant to the Rann of Kutch in Gujarat, has been spotted in the marshy areas of Nagrota Suriyan.

In 2013, a rare winter migrant, the whooper swan, was spotted here for the first time.

In the last census conducted at the Pong wetlands in February last year, 105,000 birds of 87 species were recorded.

With the onset of winter, thousands of migratory birds from central and northern Asia start arriving in the Pong wetlands for their annual sojourn.

The influx of birds can be seen at swamps near Nagrota Suriyan, Budladha and Sansarpur Terrace.

The bar-headed geese are regular and prominent winter visitors in the Pong Dam wetlands. A staggering 71,800 of them were recorded in winter of 2015, a new record.

The gregarious bar-headed geese, which start arriving in October and stay till March-end, breed in high-altitude lakes in Central Asia, as also in Tibet and Ladakh.

Listed under Schedule IV of the Wildlife Protection Act, 1972, the global population of the bar-headed geese is believed to be around 130,000, wildlife experts say.

The Pong wetlands are also home to many native birds like the red jungle fowl, large Indian parakeet, Indian cuckoo, bank myna, wood shrike, yellow-eyed babbler, black ibis, paradise flycatcher, crested lark and the crested bunting.

The Pong wetlands occupy an area of at least 18,000 hectares and extend up to 30,000 hectares in the peak monsoon season. An area of about 20,000 hectares within a radius of five kilometres has been notified as a buffer zone dedicated to wildlife.

A total of 425 species of birds, 18 species of snakes, 90 species of butterflies, 24 species of mammals, 27 species of fish have so far been recorded in Pong Dam Wildlife Sanctuary. - IANS
Wish to share your story?
Trending Now: