Assam's countryside mushrooms with opportunities for women to find alternative farming

Azera Rahman
&nbsp | &nbsp Guwahati
30-November-2015
Vol 6&nbsp|&nbspIssue 48
Aroti Devi is observant, hardworking and quite astute. This resident of Assam's Golaghat district shares, "Over the last few years, the rains have become quite erratic. Either we have incessant downpours that end up flooding the whole area or there are long spells of dry weather.
"This uncertainty has severely affected paddy cultivation, which initially had an adverse impact on our household income as well as our nutritional status. Fortunately, that's not the case anymore. We have a foolproof alternative now."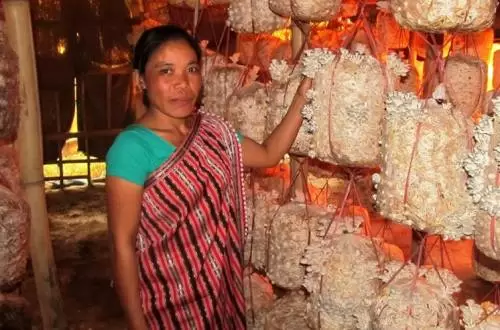 Mushroom cultivation has become popular with women's collectives, tea garden communities and farmers across the northeast as it is a totally hassle-free crop requiring minimum investment. (Photo: Azera Rahman\WFS)

In the lush countryside of the northeastern state of Assam, women like Aroti Devi have discovered a new source of livelihood that has transformed them from quiet homemakers and agri-workers to "empowered farmers".
With support from the Mushroom Development Foundation (MDF), which works closely with the North East Institute of Science and Technology (NEIST), the hardworking wives and mothers have taken to mushroom cultivation in a big way.
"Ever since I have learnt mushroom farming, there is an assured sum - no matter how small - that I am able to bring home every month. At least I can now plan something concrete for the future of my children," says the woman who harvests up to five kilos of mushroom on a particularly good day.
Like Aroti, her neighbour, Jyoti Moni Das can't stop smiling these days. Her earnings from the mushroom bags she has nurtured over the last one year have given her tremendous happiness and peace of mind.
"I, along with several other women from my village, who are part of a self-help group, have been trained in mushroom cultivation by the MDF. Over the last 12 months or so I have made Rs 40,000. My mushroom bags have truly been a boon for my family," she remarks.
Mushrooms are delicate, delicious and nutritious. Whereas once they were not commonly used in traditional Indian cooking, these days consumption has increased manifold with people becoming more open to experimenting with their everyday meals.
Of course, while northeast India, including Assam, has the perfect climatic conditions for mushroom cultivation, it is only in the last couple of years that it has become popular with women's collectives, tea garden communities, farmers and entrepreneurs alike.
And why should it not? Experts reveal that mushroom is a totally hassle-free crop. If the temperature and humidity is favourable, as is the case across the northeast, then all that is required is a little bit of seed money, information and a small patch in the backyard or a few polyethylene bags.
"Unlike in other parts of India, where mushroom cultivation needs good investment as it has to be produced in an artificially controlled environment, this is not the case in the northeast. The region is naturally blessed," points out Pranjal Baruah, founder of the MDF.
According to him, Assam is well-suited for growing oyster mushrooms that require an optimum temperature of 20-30 degree Celsius, while button mushrooms, which thrive in 10-20 degrees, are perfect for Arunachal Pradesh, Meghalaya, Nagaland that are at a higher altitude. Shitake mushroom, one of the most expensive varieties, sprouts at a temperature of 15 degrees Celsius and is ideal for a state like Manipur.
For the last couple of years, Baruah's MDF team has been assisting various women's groups in Assam to produce oyster mushrooms, with great success.
"Oyster mushrooms can be harvested throughout the year. And by way of initial investment, a farmer only needs is a bamboo frame with flex (the kind used in hoardings) and some compost," states Baruah. With such an indigenous design, it takes a mere three days to start a mushroom farm, he adds.
So far, the MDF has provided training to more than 100,000 people on mushroom cultivation. It's collaboration with the NEIST has resulted in the propagation of the best growing methods as well as the distribution of mushroom spawns.
"We have adopted a cluster approach. Since 2010, we have developed 33 clusters in 28 districts of five northeast states. Each cluster has between 100 and 180 households. We train people, mostly marginalised farmers and women, on cultivation techniques, distribute spawns and later help them sell the harvest as well. The idea is to remove the middlemen so that their hard-earned profit entirely comes to them," informs the Ashoka Fellow.
Clearly, there are multiple advantages to mushroom farming, which is often called "white-collar farming because the young and educated don't mind getting into it".
Says Baruah, "I was a commerce student and started my own business at a very young age. I developed an interest in mushroom farming more than two decades ago after I met a guy on a flight from Delhi who said that he was travelling to Dimapur (Nagaland) to buy mushrooms. He told me how they were exported and even used for medicinal purposes," he narrates.
When he researched further, he found that in developed countries, five-of-10 people consume two kilos of mushrooms a month.
"Mushrooms are good for health. They are packed with energy, proteins, vitamins, minerals, and are non-fatty. I realised that there is a huge market out there that farmers in the northeast can tap into," says Baruah.
Incidentally, apart from the MDF and NEIST, the Assam Agricultural University and the Assam Science Technology and Environment Council have been introducing farmers to scientific ways of cultivating mushroom.
Indeed, a lot that has changed for women like Aroti, and Jyoti ever since they have become proficient mushroom farmers.
They have a regular income, a standing in their family and community, and they can finally build a better future for their children on their own terms. - Women's Feature Service
Wish to share your story?
Trending Now: