Why is this man so obsessed to the cause of water conservation
Ruchita S
&nbsp | &nbsp Tumkur
19-September-2015
Vol 6&nbsp|&nbspIssue 38
Everyone knows that most human beings are about 60 per cent water, but there is one man whose every pore is about water! It's Ayyappa Masagi, 59, water magician, who combines a native intelligence with modern technology and ideas, to respect, harvest, conserve and utilise water more effectively.
He has been featured in the Limca Book of Records for constructing more than 500 lakes and recharging over 2,000 borewells. But that's just a drop in the ocean for this man who has orchestrated water conservation projects in more than 4,200 locations.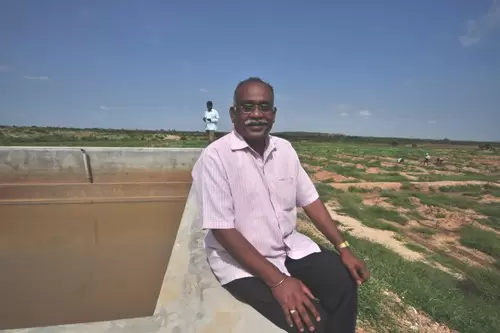 Ayyappa has implemented turnkey rainwater conservation projects in more than 70 industries, over 200 apartments, more than 50 educational institutions and over 3,000 individual houses (Photos: H K Rajashekar)

We set out for a long drive from Tumkur, 70 km from Bengaluru, to visit his Chilamathur farm, which showcases innovative experiments in water conservation and utilisation. It was 90 km from Tumkur to Hindupur, and then another 26 km to the place where we were supposed to meet Ayyappa.
As we crossed from Karnataka to Andhra Pradesh, the road was riddled with thorny acacias and the terrain turned harsher, hotter, dustier. Finally, we met the weather-beaten, sunburnt man – Ayyappa Masagi – at a little eatery manned by women on the Hyderabad highway.
A short 3-km drive to his farm in Chilamathur village revealed how this unassuming gentleman is no ordinary man. And why our 119-km journey was more than worth it.
India is on the edge of an unprecedented water crisis. According to a World Resources Institute estimate, in 15 years, the national supply of water is expected to fall 50 per cent below demand, while according to the Central Water Commission, the demand for water will climb from 634 billion cubic metres (BCM) to 1,093 BCM in 2025 and to 1,447 BCM by 2050. The shortfall is ominous.
Masagi's claim that he can solve the water problems of the nation does not seem a tall one if this farm is anything to go by. A year ago this 200-acre rocky terrain scattered with stubborn, dried palms was sold by its owner to Masagi, whom he thought was crazy to buy this 'barren' plot.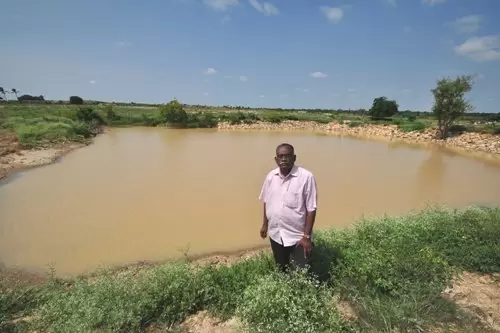 Ayyappa believes that the key to water conservation is saving every drop of rain water

Now 84 acres of the same land is teeming with greenery, scores of saplings and a variety of crops, including ragi and millet, besides beans, tomatoes, onions, green chillies and many other vegetables. What's more, the farm does not depend on external water sources for its agricultural needs any more.
Ayyappa has set up four artificial ponds, five borewells and many trenches here, all actively conserving and recharging groundwater. The farmers working here are paid 16,000 rupees a month, and live on the premises in family quarters, living off what they grow on the land.
They have 'water warriors' to guide them in their work: the vanguard that takes care of labour details and proper implementation of Ayyappa's multifarious projects.
"You are wondering why they are called 'water warriors'?" asks Ayyappa. "I read that the next world war will be fought over water and it is a strong possibility. Our 'water warriors' are the educated farmers and young enthusiasts who can prevent this.
"Our farmers are wary of innovative ways of conserving water. When their traditional methods fail, they take their own lives. I promise you that we can resuscitate our dry lands with whatever amount of rain they receive."
No false assurances here. Ayyappa routinely shatters many traditional myths associated with farming, including being dependent entirely on the vagaries of nature.
He points out, "The farmer gets lazy during rain, cosy during winter and wakes up only during summer – when he faces water shortage.
"Why don't we handle agriculture like an industry? Strategize, plan ahead and invest properly? Farmers should plan ahead of the rains and conserve each drop of rain falling on their land, turn their lands into water bowls, replenish their water sources."
In order to address attitudes, Ayyappa has gone the distance: He has demonstrated that rainforest crops like coffee and rubber can be grown in the plains too.
He has researched advanced water conservation techniques, met water experts such as Anna Hazare and Babu Rajendra Singh, and devised his own borewell recharging technique.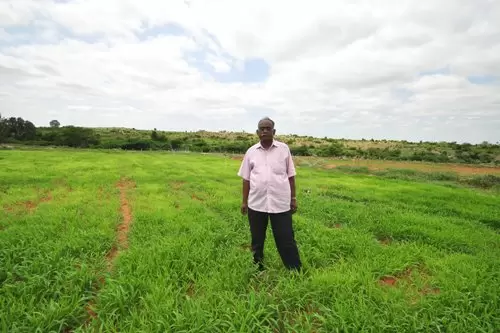 Ayyappa at one of his project spots. A barren land that has been transformed into a green patch

He has conducted awareness campaigns for decades, with training programmes, workshops, newspaper articles and books as well as theatre in the form of street and stage plays, for which he has a special talent.
He has written short poems on water literacy, made a DVD movie on the issue as well as a telefilm 'Bhageeratha', and written a self-help book titled Nela Jala Jana (Land Water People).
Water, it seems, inhabits his DNA.
It always has.
Ayyappa hails from Gadag, about 470 km from Bengaluru, one of the driest and frequently famine-stricken districts in Karnataka. He grew up in extreme poverty.
In order to keep his mother working the whole day at cleaning carrots, which they grew, his father used to cover baby Ayyappa with carrot leaves to muffle his cries.
Later, four-year-old Ayyappa would be woken up at 3 am to walk several miles with his mother to fetch drinking water. He has never forgotten it. "This is what pushed me towards thinking about water," he says.
Poverty stung hard. So much so that one night Ayyappa's father slapped him for using a kerosene lamp to study and young Ayyappa, then in sixth grade, ran away.
Subsequently, he funded his studies by working as a domestic help in several houses, right up to doing a fitter's course at the ITI (Industrial Training Institute), Gadag. He started working with BEML (Bharat Earth Movers Limited) in 1981 as a fitter, then joined L&T Komatsu in 1983.
Adding on a diploma in Mechanical Engineering and a Statistical Quality Control course got him a promotion. By 2002, he was a project manager, earning Rs 55,000 a month.
However, his heart was sworn to water. He could no longer turn away from the realities of the water scarcity he had witnessed since childhood. He quit the job to take up water conservation projects.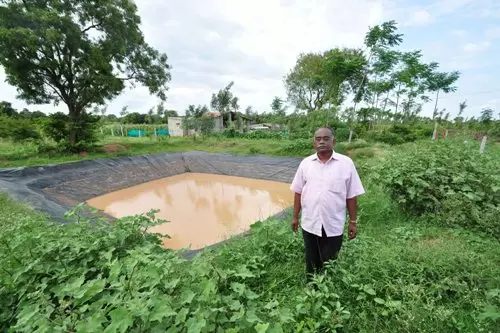 Ayyappa beside a rainwater harvesting structure

His wife called him 'an incompetent fool'.
He laughs, recounting, "We had four kids, whom she thought I was abandoning. When you are way ahead of your times, people think you are mad. I am driven by only one cause – water. I knew people would understand me some day!"
Recognition came in the form of the Ashoka Fellowship, which funded his research and projects, leading him to establish the Water Literacy Foundation (WLF) in 2005. Rain Water Concepts (I) Pvt. Ltd. (RWC) came into existence in 2008, in order to financially boost WLF.
Both RWC and WLF work on a cross-subsidy model. RWC focuses mostly on apartments, villas and industries; the profit earned is utilised to fund WLF activities.
With their special conceptual plans, WLF and RWC have empowered urban, industrial and agricultural sectors to deal with the nationwide water crisis.
Ayyappa's skills include water conservation, watershed management, water quality conservation, inter-basin water transfer, groundwater management, recycling and reusing water, and public involvement and capacity building.
The work done by the WLF and RWC headquartered in Sahakarnagar, Bengaluru, to mitigate widespread water scarcity speaks for itself.
In 7-10 years, they have implemented turnkey rainwater conservation projects at more than 4,200 locations including more than 70 industries, over 200 apartments and luxury villas, more than 50 educational institutions and over 3,000 individual houses, besides conducting more than 1,600 water awareness programmes. Behind this is the crystal-clear vision of a single man.
Ayyappa's impressive client list, stretching from Karnataka and Andhra Pradesh to Uttar Pradesh, Punjab and Goa, includes companies such as WIPRO Technologies Ltd, Tata Elxsi Ltd, Radel Electronics Ltd, Larsen and Toubro, L&T Komatsu Ltd, The Pepsi Company, Nestle India Ltd, as well as MTR Food Limited, Jindal Steel Industries and ACC Cements Pvt Ltd, among many others.

His success stories would fill a book - and overflow. At KennaMetal Widia Pvt Ltd, Bengaluru, savings of 25 lakh rupees on water were effected, all the dry borewells were recharged, and hard water was converted to soft, with the company winning the prestigious National Water Conservation Award in 2009.
Ajax Fiori Engineering Pvt Ltd harvests nearly 96 lakh litres of rain water and in the dry season, distributes harvested rainwater to the people in the neighbourhood who need it.
At the ISCKON AkshayPatra Foundation, Dharwad, because of the substantial water conservation effort, the Mid-Day Meal preparation cost reduced from seven to three rupees, and all the dry open wells within a radius of 2 km are yielding water due to the lake constructed on the premises.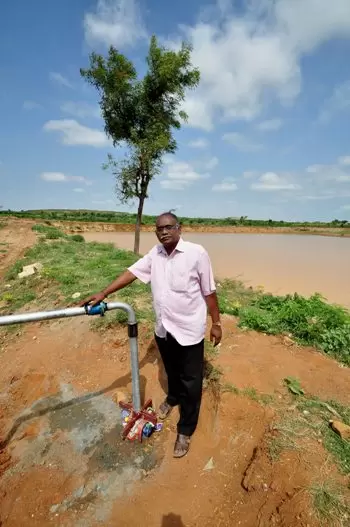 IIM Ahmedabad has bestowed on Ayyappa the title, 'Doctor of Dry Borewells'

At JanaPriya Heavens Apartments, Yelahanka, many borewells in the neighbouring areas are yielding water round the year, a success story featured on the National Geographical Channel.
Not surprisingly, Ayyappa is the recipient of several awards and sobriquets, among them the prestigious Jamnalal Bajaj Award for Application of Science and Technology for Rural Development in 2009, the Karnataka Rajyothsava award in the field of Agriculture and Water Conservation in 2009 and the Oxfam Fellowship in recognition of his exemplary work.

The Bangalore Trust called him the 'Water Gandhi', AIWA named him 'Jala Jagadhaguru' and IIM Ahmedabad bestowed on him the title, 'Doctor of Dry Borewells'.
Despite such accolades, the government has not shown much interest in his well-proven methods of water conservation that can save lakhs of farmers from penury and hopelessness.

The water cycle has come full circle. All the four children are involved in Ayyappa's work; particularly his second daughter and her husband, who work on the Chilamathur farm project, and the fourth child Naveen Chandra, who looks after the Chennai branch of WLF.
"You may be born humble... it does not matter," Ayyappa concludes, "the noble deeds you do before your death are the ones that matter." And his deeds pour forth like water: pure and unstoppable.


Trending Now: