Punjab shows the way by turning to unconventional renewable energy sources
27-July-2015
Vol 6&nbsp|&nbspIssue 30
Farmers in 'Green Revolution' state Punjab will now be encouraged to set up mini-solar power plants and also to offer their agricultural land on lease to companies wanting to set up bigger solar power plants in the state.
Punjab Deputy Chief Minister Sukhbir Singh Badal has announced the state would encourage farmers to establish mini solar plants in their own land.
"The decision to allot projects between one to 2.5 MW capacity to farmers to generate a total of 500 MW would turn farmers into entrepreneurs," he said.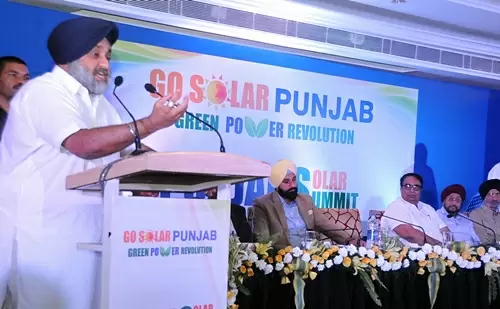 Punjab Deputy Chief Minister Sukhbir Singh Badal at the Punjab Solar Summit - 2015 in Chandigarh (Photo: IANS)

He said that 6,000 acres of land had already been registered with the Punjab Energy Development Agency with a large number of farmers expressing their interest to establish their own mini solar plants.
He said that the state government was open to subsidizing installation of solar pumps for agricultural purposes from the funds being given to Punjab State Power Corporation Ltd for free power.
Badal, while addressing a solar summit last week, said that Punjab was targeting installation of solar generation capacity of 2,000 MW.
He said that the solar energy capacity addition in Punjab had increased from nine mega-watts in 2012 to 541 MW this year and brought in an investment of Rs.4,000 crore into the state.
State's Renewable Energy Minister Bikram Singh Majithia said that farmers could get better income by leasing their land for solar power plants or by setting up their own mini-solar plants.
"Land could be leased out for Rs.50,000 per acre per year for a period of 25 years. Farmers have an opportunity in this field," Majithia said.
The Punjab government has acknowledged that farming was not a financially viable option for the state's farmers due to less returns, small land holdings and erratic weather conditions.
Food grain state Punjab contributes over 50 percent of food grains (wheat and paddy) to the national kitty despite having only 1.54 percent of the country's land. - IANS
Wish to share your story?
Trending Now: