In the concrete jungle of Mumbai, a woman nurtures birds

11-May-2015
Vol 6&nbsp|&nbspIssue 19
Every morning five parakeets visit a seventh-floor flat of a Mumbai housing building for a special breakfast of washed and sundried rice and sunflower seeds. They like it so much that they return in the evening. Some others come for lunch too!

Because, you see, this apartment is a special refuge for the feathered ones.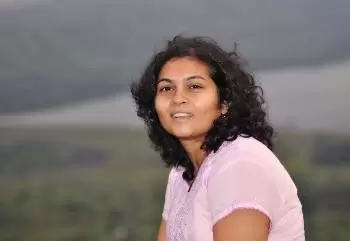 Arundhati Malhar Yatish Mhatre, techie by day, and godmother of birds by passion
In it lives Arundhati Malhar Yatish Mhatre, 34, a computer engineer with Xoriant Corporation Pvt Ltd., and benevolent benefactor of birds.

She is the one who, in 2012, launched Arenya, a unique initiative to create a culture where every other household would contribute to the well being of birds, by using shelters and feeders for them.

One assesses the health of a city by the presence or lack of early-morning bird twitter levels, right? In heavily urbanized towns, dawn is accompanied by only the intermittent noise of light morning traffic, but in healthier cities, one hears the polyphonic chirping and warbling of birds.

Bird experts also check the balance of small birds, such as sparrows, and bigger birds, such a pigeons. That's why there was a hue and cry at the disappearance of sparrows in Indian cities due to over-building and the lack of nesting places for the little birds.

"We provide shelters to birds, which we have deprived them of. It is about supporting them by providing them safe and secure nesting site and feeding options," says Arundhati. Arenya shelters and feeders provide both the comfort of a secure, sturdy nesting site and a food source.

According to Arundhati, not only sparrows but all species of birds have declined in numbers due to many factors including deforestation and pesticides – and yes, even packaged foods.

"Earlier, people purchased food grains from local shops and in the process small quantities used to spill out of these bags, and sparrows fed on them. Nowadays, there is hardly any spillage from packaged food grains sold in malls."

Besides, there are hardly any slanting roofs in buildings, where birds, especially sparrows, can comfortably nest.

Even as a child, Arundhati always craved to be amid Nature. Her favourite activities included going to her native place, Alibag, and spending time chasing dragonflies, butterflies and crabs.

After completing her schooling in Dombivli, Arundhati wanted to take up veterinary science, but ended up with a Bachelor's degree in computer engineering from Mumbai University.

It is interesting to know how she started Arenya. It all started after she got a bird shelter as a gift from a friend. She had placed it in the balcony of her flat.

"Within five minutes, a sparrow couple checked into the wooden box, and it marked the beginning of a new journey," says Arundhati. Its name was Arenya - meaning forest - and it ran on the wheels of Care, Compassion and Contribution.

The idea began to take shape in 2008 when Arundhati volunteered with a Mumbai-based organisation, Sparrow Shelter, which promoted artificial nests. She volunteered for their exhibitions, which exposed her to customer expectations, and promotion.

"Gradually, a thought process began,' says Arundhati. "I became a birdwatcher and started micro-photographing butterflies, insects and wild flowers. Finally, I had found my passion, my vocation."

During this time, it often happened that when children visited the stall she was volunteering at, they tried to persuade their parents to purchase bird shelters, but the latter found the feeders priced up to Rs 800 too expensive.

Soon, Arundhati, together with few like-minded friends, came up with Arenya. She worked hard to design affordable shelters and feeders.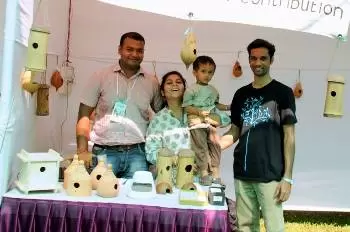 Arundhati, along with Team Arenya
Now Arenya offers different types of bird shelters made of natural materials like coconut, bamboo, clay and wood, all designed to keep birds safe and happy, and keep predators out.

They range from Rs 100 for the lightweight coconut feeders to Rs 200 for clay ones and Rs 300 for the sturdy bamboo shelter-feeders, with an additional delivery charge of Rs 100 (excluding courier/shipping charges).

Arenya sells them at an average rate of 100 shelters and feeders, a year. Up to now the sales were mostly in Mumbai, Pune and within Maharashtra.

A recent article in the media brought Arenya into the limelight and Arundhati started receiving enquiries from States as far apart as Odisha, Madhya Pradesh, Tamil Nadu and Karnataka. "People read about us in newspapers, log into our websites, and e-mail us," she says. "It is very encouraging."
Clearly, it is not about making money, but Arundhati wants the social enterprise to be self-sustainable. Arenya promotes shelters and feeders through its website, social media and exhibitions.

They also conduct workshops to educate, generate awareness, and sensitise people, young and old - for instance, at the Farmers market in Mumbai, which is held every Sunday from November to March, or as Arundhati did recently at the American School in Mumbai.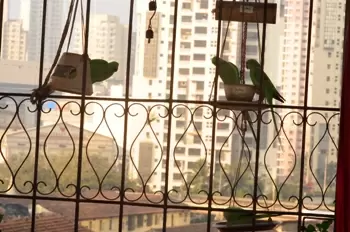 Birds enjoy the shelters and feeders provided by Arenya
Arenya educates people on how to make shelters or feeders out of recycled oil cans, soft drink cans and milk tetrapacks.
Arundhati's husband, Yatish Mhatre, an interior designer, supports her especially with organising exhibitions and workshops. "The response of the people in these workshops is amazing," she says. "People share wonderful experiences."

Team Arenya is small and close-knit. Arundhati's friend, Shrutika Kalgutkar, the strategist, looks after the content matter for Arenya, and prepares and edits articles for it. Vishwanath Birje, the logistician, looks after product design and brochures.
Abhishek Bawkar, customer relations and IT in-charge, maintains the website while Arundhati's brother, Rohan Patil, accompanies her to exhibitions and workshops.

The website of the organisation (www.arenya.in) guides both prospective and present customers on how to take care of the bird shelters.

Arundhati, who loves crafts and reading as well as listening to Coke Studio, has a simple mantra for sustainable life – everyone's lifestyle should be close to Nature, and they should think of conserving water, soil and energy.

It is only fitting that her four-year-old son Malhar was born on 5 June, observed as World Environment Day.
Wish to share your story?
Trending Now: