EnviroCare Welfare Society is in the forefront of the campaign to save Indian wolves
Quaid Najmi
&nbsp | &nbsp Mumbai
09-March-2015
Vol 6&nbsp|&nbspIssue 10
For the first time, a systematic effort has been initiated to save the Indian wolf, now figuring on the 'endangered' list of wild animals in the country.
A wolf conservation effort has been taken up in Ahmednagar district in Maharashtra by a Mumbai NGO, villagers of Parner in Ahmednagar and the Maharashtra forest department, helped by a British trust.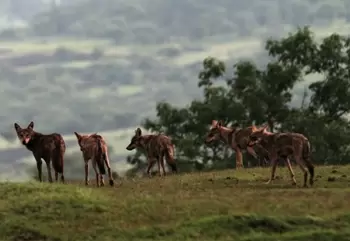 According to unofficial estimates, there may be just 2,000-3,000 Indian wolves in the wild
The wolf was once widely spotted in grasslands all over India.
"In recent times, the creature is hardly noticed at regular haunts, due to various pressures on its natural habitat and hunting areas," said naturalist Ashwin Aghor.
"We observed this in Ahmednagar's grasslands which once abounded with packs of wolves but which are now rarely sighted," said Aghor, director of EnviroCare Welfare Society (ECWS).
Aghor learnt of an amateurish effort to save the wolf, jackals and foxes in Parner in Ahmednagar by a schoolteacher, Raosaheb Kasar, and volunteer Santosh Gandhi.
"This was a truly noble venture. I decided to join them for the sake of the Indian wolf," he said. The groundwork began over six months ago using their own resources. NGO Vanashakti helped them.
The wolf, once routinely sighted, seem to have virtually disappeared from the region, villagers told Aghor.
They said this was despite abundance of prey like deer, antelopes, hares, rabbits, rodents and even sheep, goats, dogs when they stray into human habitats, and there is up to one metre tall grass, dens or burroughs in the wild for them to hide and hunt, he added.
Aghor's research revealed that barring one initiative by the Maharashtra forest department, there was hardly any formal effort directed to saving the Indian wolf.
"The ECWS has taken up the cause of saving the wolf simply because there is nobody trying to save them in India though there are many organisations working for them worldwide," he said.
India is home to two important species: the Grey Wolf and the Himalayan Wolf. The latter is even more endangered. According to unofficial estimates, there may be just 2,000-3,000 Indian wolves in the wild.
Luckily, the United Kingdom Wolf Conservation Trust (UKWCT) in London chipped in with 5,000 pounds to the ECWS.
Sunil Limaye, the Chief Conservator of Forests-Wild Life, Pune, said the Indian wolf had been accorded a 'protected animal' status since 1972.
"However, we have no data on their numbers. The (Ahmednagar) project has been started specifically for the wolves. It will continue for another six months to learn their behaviour in winter, summer and monsoon months," Limaye told IANS.
Lamented Aghor: "Though wolves are supported to live across India, not even primary estimates of their numbers are available, forget a systematic census conducted for other bigger animals like tigers and lions."
The wolf is vital for the grasslands -- as the tiger is to dense forests, experts say.
ECWS and its 10-member team are planning to convert the Ahmednagar grassland into a 'wolf laboratory' for the whole country and deduce a fair idea of its population, behaviour, average pack size, area of activities, food habits and migration patterns by 2020.
The grassland in the district is spread over 1,444 sq km.
UKWCT is currently engaged in wolf conservation projects in Armenia, Bulgaria, Croatia, Ethopia, France, Greece, Nepal, Portugal, Russia and the US. - IANS

Wish to share your story?
Trending Now: