Breathe mountain-fresh air even in the most polluted cities of the world
Vishnu Makhijani
&nbsp | &nbsp New Delhi
24-January-2015
Vol 6&nbsp|&nbspIssue 4
Thanks to an innovative green technique involving some 1,200 indoor plants adopted by a business centre in south Delhi, one can actually breathe "Davos quality" air in the national capital -- where the smog is three times worse than Beijing's.
"I've brought Davos (quality) air to Delhi," says Barun Aggarwal, director of Breathe Easy, the Indoor Air Quality (IAQ) division of the Paharpur Business Centre (PBC) in the otherwise crowded, cramped and shabby Nehru Place commercial complex, where the system has been installed.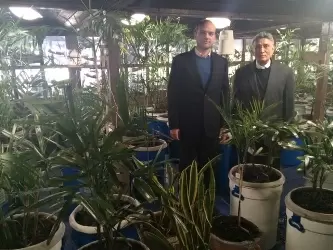 Kamal Meattle, CEO of Paharpur Business Centre (right) and Barun Aggarwal of Breathe Easy at the greenhouse (Photo: IANS)
"We can help you breathe mountain-fresh air in the most polluted city of the world. Our technique has applications in homes, offices, malls, hotels, hospitals -- in fact, in any indoor space involving humans," Aggarwal said.
"Everyone talks about the problem, very few talk about solutions and that's where we step in," he added.
At the bottom line, the technique seems deceptively simple. Aggarwal and PBC CEO Kamal Meattle first zeroed in on three houseplants -- mother-in-law's tongue, areca palm and money plant -- because of their ability to detoxify indoor air and enrich it with oxygen.
The 50,000-square-foot facility, spread over six floors, uses, among other technologies, a scrubber on its roof to wash outside air with water to reduce the level of various pollutants.
This air is then circulated through a greenhouse, which occupies over half of the roof, to remove formaldehyde, benzene, carbon monoxide and bacteria before being pumped into the air conditioning system.
Throughout the building -- in office rooms, conference rooms, corridors, stairwells and even washrooms -- the three houseplants aid in the process.
And if proof of the pudding lies in the eating, take in this: Throughout my four-hour-stay in the building, I didn't once have to reach for a tissue or a handkerchief -- something extremely rare in a city like Delhi, especially when indoor air pollution is worse than the outside.
WHO estimates that indoor air pollution is India's second largest killer after high BP, leading to 1.3 million deaths annually.
"Our indoor air is up to 10 times more polluted than the outside. You don't have to only worry about cholesterol. You have to also worry about the air you are breathing," said Meattle, an environmentalist and serial entrepreneur whose efforts led to the Supreme Court mandating that benzene levels in petrol refined in India be less than one percent.
"The bacterial and fungal levels in our building are lower than those in any major hospital. Thus, energy costs are down as lesser ambient air is required to maintain the Indoor Air Quality and efficiency levels definitely go up," Meattle said.
Little wonder then that some 750 homes across India, as also the US American Embassy School and French Embassy School here, have approached Breathe Easy for clean air solutions, with Aggarwal estimating the market size at Rs.16,000 crore (Rs.160 billion/$2.5 billion.)
The statistics themselves are telling. The worldwide parameters for CO2, Particulate Matter 10 and PM 2.5 for indoor air are 700 parts per million over ambient, 50 micrograms per cubic metre and 15 micrograms per cubic metre.
In case of the PBC which has Indoor Air Quality that conforms to ASHRAE (American Society of Heating, Refrigerating, and Air-Conditioning Engineers) and WHO-specified standards, the figures are 488, 23 and 13, respectively.
But in the case of other buildings, the figures are a staggering at 1,068, 489 and 378, respectively.
Little wonder then that the Central Pollution Control Board and Kolkata's Chittaranjan National Cancer Institute have found PBC among the healthiest buildings in Delhi-NCR.
And, to drive home this point, a cafeteria on the ground floor is open to the public throughout the day where one can feed on a buffet or order a la carte at a reasonable price - and also down a beer or two! - IANS

Trending Now: