At last, Kerala clears 'neera' as a non-alcoholic beverage
Sanu George
&nbsp | &nbsp Thiruvananthapuram
08-November-2014
Vol 5&nbsp|&nbspIssue 45
After waiting in the wings for long, thanks to bureaucratic delays, neera, a coconut water-based non-alcoholic drink, appears to have finally come of age and is all set to become the coconut farmers' lucky charm and the drinkers' delight.
Tapped from the bunches on coconut trees, neera is sweet and a proven health drink, while toddy, also from the same source, has an alcohol content of five to eight percent. Hence there was a long delay in rewriting the excise rules for neera.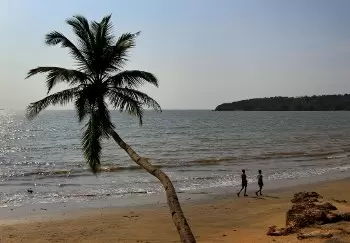 Kerala has an estimated 180 million coconut trees (Photo of a coconut palm in a Goa beach for representational purpose only. Photo Courtesy: Indian Photo Agency)
In simple terms, the difference between neera and toddy is that between milk and curd.
The liquid that comes out from the bunches is collected in pots. A separate pot is used for toddy and the liquid ferments because of the presence of sediments in the pot. A clean pot is used for collecting neera, which has a shelf-life of a few hours and has to be processed before that.
Agriculture Minister K.P. Mohanan said neera will be a win-win situation for farmers and drinkers.
"On an average, a bunch of neera will see the owners of coconut trees richer by around Rs.1,200 per tree per month," said Mohanan.
A 200 ml pet bottle of neera costs Rs.30.
"To start with, we are planning to process 40,000 litres of neera every day, for which we already have two processing units and plan to add a third next month," Mohanan added.
Kerala has 180 million coconut trees and according to T.K. Jose, chairman of the Coconut Development Board, the state's GDP would increase by 17 percent if even 10 percent of trees are tapped for neera.
"We have now completed the training of 600 master neera technicians (tappers). We now plan to provide training to all those who are interested through these master neera technicians," Mohanan said.
The challenge before the government is to ensure that more coconut trees are planted. For this a plantation drive has been launched at all the educational institutions in the state.
"We are going to provide a new variety of dwarf coconut tree which will not grow tall. Thus, tapping will become easy," Mohanan said.
According to experts from the Kerala Agricultural University who have been the brains behind this health drink, the daily production of neera would range from one litre to 4.5 litres per tree.
"The challenge today is to ensure the vans reach the collection centres and send the neera for processing within the stipulated time. In due course we plan to have at least one processing centre in each of the 14 districts," Mohanan said. - IANS
Wish to share your story?
Trending Now: