Conserving the migratory birds that fly the longest distance to visit Nagaland
Sujit Chakraborty
&nbsp | &nbsp Kohima
03-November-2014
Vol 5&nbsp|&nbspIssue 44
India's northeastern state of Nagaland is determined to provide sanctuary to Amur falcons, known to be one of the world's longest-distance migratory birds as they travel up to a staggering 22,000 km a year.
"NGOs and civil societies are wholeheartedly cooperating with the forest department and wildlife division to shelter the birds," Nagaland's Principal Chief Conservator of Forests M. Lokeswara Rao said, adding that adequate numbers of forest protection personnel were deployed in different lakes, water reservoirs and forest areas to protect the birds.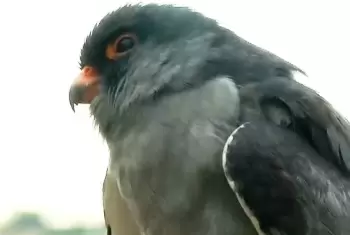 Nagaland scripted a success story in safeguarding the birds with the joint efforts of locals, forest department and NGOs
"Last year, around one million Amur falcons had came to Nagaland and subsequently gone to South Africa and other countries. This year the number of migratory birds already crossed one million."
Like in previous years, the birds began arriving earlier this month from Mongolia, Siberia, Northern China and Japan. They will stay in Nagaland, mostly in Wokha district and adjoining areas for about two months, and then head for South Africa and other countries, an amazing expedition - including a three-and-a-half-day non-stop journey across the Arabian Sea - that was satellite-tracked and documented for the first time last year.
Mountainous Nagaland scripted a success story in safeguarding the migratory birds with the joint teamwork of locals, the state forest department and NGOs. The initiative won accolades from the United Nations Environment Programme this year.
Earlier, Amur falcons were killed indiscriminately in the Doyang reserve forest areas and other places of the state. Since last year, due to a massive campaign, the villagers at different places have refrained from killing these birds.
The Pangti Village Council of Nagaland, which led the conservation initiatives of the state forest, wildlife and other departments of the state government and local NGOs, has received national and international recognition for its amazing efforts.
The Amur falcon (Falco amurensis) is a small raptor of the falcon family. It breeds in southeastern Siberia and Northern China before migrating in large flocks across India and over the Arabian Sea to winter in South Africa.
"Tracking of the raptors began soon after the three birds were released in Nagaland last Nov 6 after satellite tags with an antenna and solar panel, weighing five grams, had been fitted on their back by a team of scientists.
After a few months all the three birds were located near a lake in South Africa," a Nagaland wildlife official said.
The Nagaland Wildlife and Biodiversity Conservation Trust (NWBCT) said its 'Friends of the Amur Falcon' programme is in its third year and would continue its drive and education programme through its eco-clubs.
According to the forest department officials, the Amur falcon is protected under the Wildlife (Protection) Act and trapping or killing of the birds is a criminal offence punishable with three years' rigorous imprisonment or a Rs.25,000 fine or both.
Nagaland Governor Padmanabha Balakrishna Acharya appealed to the people to ensure safe passage of the Amur falcons.
"Over a million of Amur falcons come to Nagaland from Siberia en route to their final destination to Somalia, Kenya and South Africa. These amazing birds have one of the longest migration routes of all birds, doing up to 22,000 km in a year," said Achrarya.
"The raptors are unusual because they travel a huge distance over the sea and carry on their journey at night too," said Acharya, who has the additional charge of Tripura governor.
"I was sad and shocked to learn the news of large-scale killing of these wonderful raptors on the banks of the Doyang reservoir in the past," he added.
He said India, as a signatory to the Convention of Migratory Species, is duty-bound to stop this indiscriminate killing and provide safe passage.
"Naga people are traditionally known for their love for meat and animal products. In 2012, around 140,000 birds were killed. But, with the community's positive response to the intensive joint initiative of the forest department and NGOs, we successfully saved most of the birds last year," said Bano Haralu, a writer who is also managing trustee of NWBCT.
"Carrying out a state-wide massive awareness campaign involving teachers and school children, during the past few years with the community's all out help
yielded success in protecting the birds," Haralu told IANS.
She said that Nagaland is already known as the "falcon capital of the world" because of focused and relentless awareness in the last few years to shelter the birds and to protect its milieu.
"The Amur falcons are also seen in Dima Hasao district for a few weeks during October and November. During this period, the falcons are hunted and traded in Dima Hasao.

Keeping the success of last year's awareness programmes, in Nagaland, a Rapid Action Project has also been started in the area to encourage locals to help conserve these birds," an Assam forest department official said.
Nearly 100 Amur falcons have been reportedly slaughtered in the last couple of days in Umrangsu village in Dima Hasao district in southern Assam.
In Nagaland, a welcome programme was recently organised by the forest department in Pangti village (in western Nagaland) as part of the campaign to protest the birds. The Nagaland forest department and Nagaland Bamboo Mission had constructed two watch towers to observe the mass migration phenomenon. - IANS
Wish to share your story?
Trending Now: