She wants more trees, water troughs for birds and no polythene bags
Anil Sharma
&nbsp | &nbsp Chittorgarh
31-May-2014
Vol 5&nbsp|&nbspIssue 22
The death of a cow after swallowing a polythene bag was the trigger that led Divya Jain, 15, to start a campaign against its use in Rajasthan and beyond. She also encourages people to fabricate water troughs to save birds from the searing desert summer.
Divya Jain, a class 10 student in Chittorgarh, over 350 km from state capital Jaipur, believes in leading by example.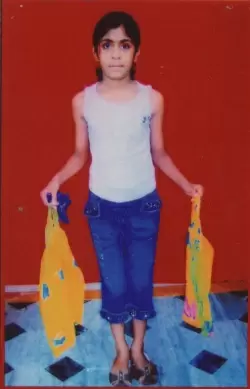 Divya with the cloth bags she has made to discourage the use of polythene (Photos: IANS)
Over the last few years, she has herself made and distributed 15,000 cloth and jute bags to the people in the city, famous for its historic fort, in a bid to persuade them to use such bags in place of polythene.
"I heard about a cow dying after eating a polythene bag around six years back in Kota city, where my grandparents live. I was shocked and I decided that I will propagate the use of bags made of cloth and jute instead of polythene. Since then I have been doing that," said Jain.
"I also encourage people to plant trees, save water and to provide water to the birds during the summer season," she said.
The summer is terribly harsh in the desert state of Rajasthan and hundreds of birds die every year due to lack of water to drink.
"My father also encourages me in my work," said Divya.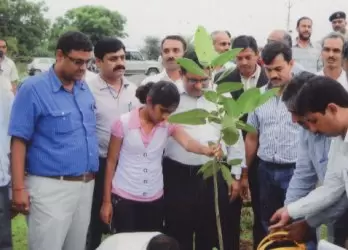 Divya planting a sappling
"We are a family of four including Divya, her mother and a 10-year-old son. We always support her for the work she is doing. Her efforts have started to yield results," her father Sanjay Kumar Jain, who teaches in a government school in Chittorgarh, said proudly.
"Daily I go house-to-house and also in nearby cities like Bhilwara and Kota and request people to use bags made of cloth and jute in place of polythene which is very harmful and is non-biodegradable or, in simpler terms, does not decay.
"I also attend religious functions, public gatherings and meetings and go to educational institutions where I distribute pamphlets and impress upon people not to use polythene bags," Divya said.
"I travel with her to nearby cities to help her spread her message," her father added.
"I request religious leaders too to talk about use of bags made of cloth and jute in their regular discourse," she said.
"I must have written over 1,600 letters to the president, the prime minister, members of parliament and MLAs in this regard," Divya said, adding: "I have also written to the BJP president requesting him to launch a polythene-free India campaign." - IANS

Trending Now: