'Solar projects lend themselves to a more decentralised form of development'
Biswajit Choudhury
&nbsp | &nbsp Gunthawada (Gujarat)
15-February-2014
Vol 5&nbsp|&nbspIssue 7
Hindustan Powerprojects Pvt Ltd (HPPPL), just-renamed Moser Baer Projects, plans to invest around Rs.32,000 crore over three years to increase its overall generation capacity by over 5,000 MW, of which 1,000 MW will come from solar power. The company's current capacity from hydro and solar generation is less than 1,000 MW.
Its solar business - Hindustan Cleanenergy - is looking to enhance its portfolio from 350 MW to 1000 MW by fiscal 2016-17 and has already invested Rs.5,500 crore on this.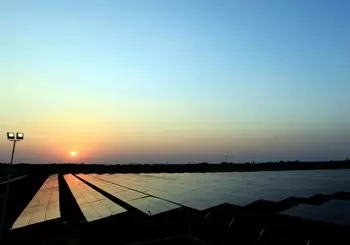 HPPPL's 30 MW Gunthawada plant is Asia's largest solar power project (Photo: IANS)
India's largest solar power development company will bring 100 MW of solar power online in the next few months, half of which will be generated in Gujarat in the country's western extremity, where sunlight streams in late into the day.
Taking journalists on a tour of the company's solar farm located here among mustard and cotton fields, 150 km from the state capital Gandhinagar, Rajya Wardhan Ghei, chief executive of the solar vertical, said scarcity of domestic coal and increasing demand for clean power has led HPPPL increasingly focus on solar power.
"Coal-based power plants face a lot of issues in acquisition of land and fuel linkages, causing delays in projects and higher costs. (State miner) Coal India is also finding it difficult to meet the country's fuel requirements from domestic resources," Ghei noted .
The 30 MW Gunthawada plant, inaugurated by Gujarat Chief Minister Narendra Modi in October 2011, is Asia's largest solar power project.
The journey from Ahmedabad, with the coming general elections quite evident from giant party hoardings on the highway, crosses a milestone indicating the Tropic of Cancer a few kilometres from the solar farm.
"This solar farm is generating about 48.5 million Kilowatt hour (KWh) annually, which is providing electricity for 50,000 homes everyday," Ghei said of the Rs.465 crore project.
There are 236,000 panels for generating power, Ghei said, indicating the rows of solar panels laid out neatly as in a plantation farm over an area of 300 acres.
Pointing out that the land requirements of thermal projects are much higher than for solar ones, Ghei said the Gunthawada farm was performing even better than projected in its design, with a plant load factor (PLF) of 19.7 percent as the measure of capacity utilisation.
HPPPL was the country's first power producer to install 5MW and 30MW solar projects, and aims to be the first to attain 1,000 MW solar capacity by 2016-17, the chief executive said.
The government, which instituted the National Solar Mission in 2009, has set the target of generating 30,000 MW of solar power by 2017.
The company's other completed solar project is the 5 MW unit at Sivaganga in Tamil Nadu, which employs the same thin film technology as at Gunthawada.
Of HPPPL's existing capacity, around 120 MW of solar assets are overseas in Germany, Italy and Britain.
With most of India having a high incidence of solar radiation, Ghei points to its comparative advantages.
"With a short set-up period and no fuel availability or transmission issues, solar projects lend themselves to a more decentralised form of development compared to big thermal or hydro projects," Ghei said.
HPPPL has a power purchase agreement with the Gujarat Vidyut Nigam Ltd (GVNL) for supply from Gunthawada at Rs.15 per unit for the first 12 years and at Rs.5 per unit from the 13th to the 25th year.
As the first major project commissioned under the Gujarat Solar Mission, Ghei said that apart the abundant daylight in the region, the decision to set-up in Gujarat
was guided by its progressive solar policies.
"We could not have completed this project in record time without the support of the state government," Ghei said. - IANS

Trending Now: