The best time to visit this world heritage sanctuary is March but anytime in good
Arvind Padmanabhan
&nbsp | &nbsp Kaziranga (Assam)
15-February-2014
Vol 5&nbsp|&nbspIssue 7
Unlike a tiger reserve where the sighting of India's national animal is often a matter of chance, a visit to this national park in Golaghat and Nagaon districts of this northeastern state is certain to offer more than a glimpse of the one-horned rhinoceros, dwelling in its natural habitat.
Despite the elephant grass being at its tallest around this time of the year, one could spot as many as 34 of these odd-toed ungulates during the course of two jeep safaris and an elephant ride - some as near as a couple of metres away.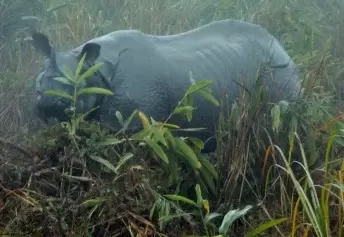 A Great One-horned Rhinoceroses in Kaziranga. There are 1,552 of these odd-toed ungulates in the park (Photo: Tara Padmanabhan)
The best time for sighting, though, is March when the forest officials burn the grass to facilitate fresh growth, and the small watering holes dry up, forcing the animals to go to the larger reservoirs to quench their thirst. Big cats still remain elusive!
A World Heritage Site declared by Unesco, Kaziranga boasts a third of the world's Great One-horned Rhinoceroses, even as it is also home to Asiatic Water Buffalos, Swamp Deer, elephants, gaur, sambar, wild boar and hog deer.
Park officials claim the park is also home to 86 tigers in its area of 430 sq km as per Census taken in 2000, making it a reserve with one of the largest densities of this big cat. But only a lucky few claim to have spotted one, including residents and regulars.
This apart the park also houses nine species of primates including the Assamese Macaque, Lutings, Golden Langur and the only ape found in India, the Hoolock Gibbon. It also has quite an array of birds, both resident and migratory.
As per an official notice board on the outskirts of the park, Kaziranga has 1,552 Great One-horned Rhinoceroses, 1,432 Asiatic Water Buffalos, 468 Eastern Swamp Deer, 1,048 Asiatic Elephants and 478 species of bird species.
Located to the south of the mighty Brahmaputra river, the park itself is divided into four ranges - Burapahar, Baguri, Central, and Eastern - which are headquartered at Ghorakati, Baguri, Kohora, and Agoratoli, respectively.
Among them the Kohora range is rich in birdlife, the Agartoli range promises glimpses of elephants and turtles, the Baguri Range has a fair concentration of the Great Indian One-Horned Rhinoceroses and the Burapahar Range offers good sightings of the apes.
Once one has settled in one of the numerous hotels, lodges and resorts, both the jeep safari and an elephant ride are must-dos. While a jeep safari covers a lot of distance, a ride on the pachyderm takes you to the interiors for a closer view of rhinos and other fauna.
Trekking and hiking are prohibited so as not to disturb the animals, but one can climb atop one of the several observation towers at Sohola, Mihimukh, Kathpara, Foliamari and Harmoti, for sightings. The park remains closed from mid-April to mid-October.
The rides at the park are also not too expensive. A jeep safari for some three hours can cost around Rs.2,000 per trip, while an hour-long elephant ride is for Rs.550 per head, inclusive of the park fee. Book an elephant ride in advance - they are much in demand.
Reaching Kaziranga is also not too difficult. The nearest airports are at Jorhat, around 100-km away, and at Guwahati, some 225-km away. While the nearest railhead is 40 km away at Jakhalabandha, the park is also well connected by road, along the National Highway.
Getting There
* Kaziranga Nation Park is a 150-minute drive from Jorhat and 180-minute drive from Guwahati. Cabs cost around Rs.1,800 to Rs.2,500. Bus rides are available, too.
* The nearest airports are at Jorhat and Guwahati, 100 km and 225 km away, respectively.
* The park is on National Highway 37.
Accommodation
* Double rooms and cottages in one of the several Assam Tourism-run properties around the park cost between Rs.1,500 and Rs.3,000 per night, while a stay in a private luxury resort can go up to around Rs.20,000 per night for two people with all amenities thrown in.
Eating out
* Food is inexpensive and one has restaurants to pick, suiting every budget. In the Assam Tourism-run properties, a meal costs around Rs.400 for two people. - IANS

Trending Now: