Animal lovers have reason to rejoice as China cracks down on illegal ivory trade
Rahul Dass
&nbsp | &nbsp New Delhi
17-January-2014
Vol 5&nbsp|&nbspIssue 3
There is good news for wildlife lovers. China, the world's biggest consumer of trafficked ivory, has signalled its intent to crack down on the thriving illegal trade by destroying over six tonnes of confiscated tusks and carved pieces, say Indian wildlife experts who see Beijing "turning a new leaf".

The move is likely to benefit African elephants more than Asian elephants.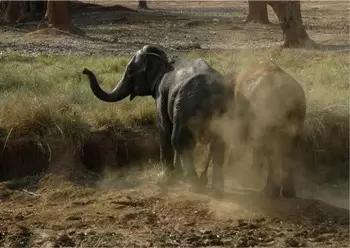 China's crackdown might control the illegal ivory trade (Photo: Indian Photo Agency)
China carried out its first public destruction of confiscated ivory earlier this week, dumping 6.1 tonnes of tusks and carved pieces into two crushers and grinding them into rubble at a ceremony in Guangdong province, barely two months after the US destroyed a huge stockpile.
Beijing's "stance seems to be changing...it's a good sign", said Ajay Desai, co-chair of the Asian Elephant Specialist Group (AsESG) and India's leading expert on the pachyderms.
The Chinese move was symbolic and indicates that the country was "turning a new leaf", he added.
Desai described it as a positive step, particularly since Beijing had earlier been "disinterested" in taking action against the illegal ivory trade. He, however, warned the step may drive the illegal trade underground. Desai said the move will have a much wider impact on African elephants rather than their Asian cousins.
According to a ballpark figure, there are some 25,000-27,000 elephants in the wild in India.
Ashok Kumar, vice-chairman and trustee of the Wildlife Trust of India (WTI), described China's decision as a "good move".
"They (Chinese) are realising that elephants may go extinct," remarked Ashok Kumar. He said that the illegal ivory trade seems to be "slowly coming under control".
China destroying confiscated ivory stocks was "happening for the first time" and shows that "they are showing concern", Ashok Kumar added.
WWF said that China has previously indicated it is prepared to clamp down hard against the illegal ivory trade. The ivory destruction took place just weeks after eight Chinese citizens were convicted and sentenced to three to 15 years' imprisonment for smuggling 3.2 tonnes of ivory.
Fan Zhiyong, head of WWF-China's Species Programme, said that destroying seized ivory is "a signal of the government's commitment to enhance law enforcement against illegal ivory trade that will support international action against elephant poaching and illegal wildlife trade".
China has a legal ivory market based on stocks that pre-date the 1989 international ivory trade ban and a sanctioned "one-off" ivory sale with four African countries in 2008, under rules of the Convention on International Trade in Endangered Species (CITES), under which seized ivory cannot be used for commercial purposes. - IANS


Trending Now: