For birds, Kashmir continues to be an ideal winter sanctuary
Sheikh Qayoom
&nbsp | &nbsp Hokersar Bird Reserve
01-November-2013
Vol 4&nbsp|&nbspIssue 44
With over 300,000 migratory birds already thronging Hokersar Bird Reserve in Kashmir, officials say they are expecting the highest number of avian visitors this winter.
"The arrival of migratory birds has begun in large numbers," said Muhammad Maqbool Baba, Wetland Warden (Kashmir).
"We have around 300,000 migratory birds in the reserve this time. This is a record so far as first migratory arrivals are concerned. We expect to host over one million migratory birds in the various bird reserves of the Valley this winter which would be the highest ever number," Baba added.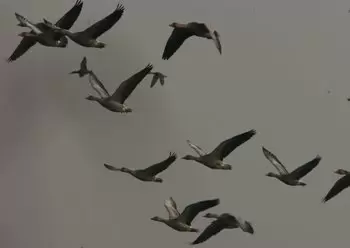 Migratory birds are flocking to Kashmir in record numbers (Photos: IANS)
The warden said migratory birds have arrived here early and in such large numbers because their winter homes are well maintained.
"We have maintained optimum levels of water in Hokersar this year by plugging leakages and the like," the warden said.
The Hokersar reserve, spread over 7.6 sq km, is situated 20 km from city centre Lal Chowk on the Srinagar-Muzaffarabad road.
The other prominent bird reserves of the Valley are Shallabugh, Mirgund and Hygam. In addition to this, migratory birds also spend the winter months in over 120 other small and big water bodies including the Wullar Lake and the Dal Lake.
Migratory birds come to Kashmir each winter from Russia (Siberia), China, the Philippines and Turkey and some countries of Eastern Europe.
"We have around 25,000 greylag geese, over 100,000 mallards, nearly 150,000 teals, over 50,000 shovellers, pintails, gadwalls, wigeons, coots and purple moorhens in the reserve and with each passing day, more birds are arriving," Baba said.
Some rare species, including brahmani ducks, have been spotted in the reserve this time.
"Their numbers are definitely less, but we have seen them arrive in comparatively better numbers", the warden claimed.
Encouraged by these arrivals, the warden said he is also expecting some other rare bird species like tufted ducks and cotton teals to return.
"For many years, tufted ducks and cotton teals that are highly endangered species of migratory birds have been rarely sighted in our reserves. This year, we are expecting them to return to their once-cherished winter homes," Baba said.
Migratory birds come to Kashmir to ward off the extreme winter in their summer homes, where water bodies freeze over and become rock solid, making feeding and movement difficult for them.
Baba said wetland reserves were notified as winter homes for migratory birds and declared protected in Kashmir in 1945 by the erstwhile Dogra Maharaja, Hari Singh, even though bird shooting as a sport was banned in Jammu and Kashmir only in 1995.
"Nobody can shoot a migratory bird of any species in the state anywhere. This law is applicable to both the bird reserves and all other water bodies where these birds are found," Baba said.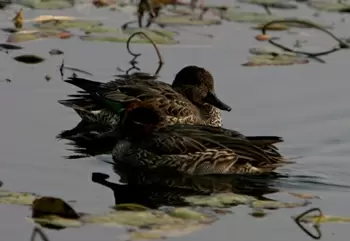 Besides migratory birds, the Valley also plays host to some species known as birds of passage
The warden, however, did not deny that poachers had been shooting birds at some places outside the bird reserves, especially at night.
"Poaching like other crimes would always be there. We are trying our best to check this and ensure the safety of the birds," he added.
The warden blamed staff shortages in the department for the inability to completely stop poaching.
"We do not have sufficient workforce to ensure that there is no poaching at all. Even then, we are doing our best to check the menace," he said.
In addition to migratory birds that come to spend the entire winter in Kashmir, the Valley also plays host to some species known as birds of passage.
"These include the cormorants and the sandhill cranes. These birds spend just a few days in the Valley while going to the Indian plains and while returning for their journey to their summer homes", Baba explained.
As birds take to flight inside the Hokersar reserve, the flocks move in well-defined groups of geese, mallards, teals, shovellers, gadwalls and pintails.
"The mallards, teals and greylag geese will move separately during their flight. The eldest of the flock will lead the others as a master navigator whose flying skills baffle some of the best aviation experts," Baba said.
Well, birds of the same feather flock together; this age-old adage is seen in dazzling colours of the bird's plumages inside Hokersar these days. - IANS
Wish to share your story?
Trending Now: