Shared community life, traditional farming, living with nature and a lot more

09-August-2013
Vol 4&nbsp|&nbspIssue 32
A unique experiment is unfolding at a village in the foothills of the Himalayas in Uttarakhand, where a father-daughter duo has turned a 5-acre land into a natural laboratory for organic farming and community living.

Hari Pant, a retired brigadier, and Richa, a former journalist, have come a long way since they began the Himalayan Farm Project in late 2011 at Raila, a village that is located about 200 km from Dehradun.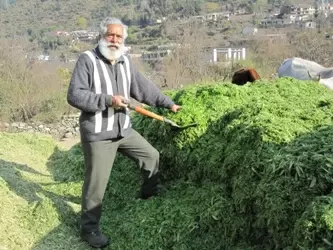 Hari wants to introduce youngsters to the joy of growing food
Surrounded by thick deciduous forests, their farm has hardly any connect with the outside world. But volunteers from around the world visit the place to understand the nuances of a shared community life and farming.

It is all about getting one's hand dirty in mud and slogging hard to relish the little joys of life that have almost been forgotten in the daily madness of modernity.

Be it working on the fields, or constructing mud houses, or designing an irrigation plan, their farm has opened a window for urban dwellers to get a peep into the lives of villagers.

"During my stay in the US, I was baffled by the response of some kids I interacted with. When I asked them what they intended to grow, they said French fries and burgers," says Hari.

They had no idea where the milk they drank came from. "I realised how disengaged they were from the realities. They had no clue about their source of food and that is when I decided to work on something that helps young people reconnect with nature," says the septuagenarian.

After retiring from the army in 1997, Hari returned to the land of his forefathers in Uttarakhand. An expert in homeopathy and Ayurveda, Hari ran a small clinic in Bhimtal where he would provide free medicines and consultation.

The turning point came in 2007 when he got an opportunity to attend a two-week 'Illness to Wellness' course at Schumacher College in UK. Later, he attended a course by Cathrine Sneed on 'Reconnecting with Nature as Healer' in 2008.

He then secured a six-month apprenticeship at the Center for Agroecology and Sustainable Food Systems, University of California, Santa Cruz, where he learnt about intensive farming practice and other aspects of sustainable farming. He also volunteered at the Garden Project led by Cathrine Sneed in San Francisco.

Sneed left a lasting impression on Hari and inspired him to try his unique project that is today creating ripples within and outside the country.

When Richa who had returned from the UK decided to buy a piece of land closer to the forests, Hari suggested she buy this farm in Raila that had been abandoned by its previous owner.

"I always wanted to own a piece of land that was surrounded by forests and when my father took me to this place, I was ecstatic. It was off the grid and that meant no electricity. We zeroed down on it and bought it soon after," she says.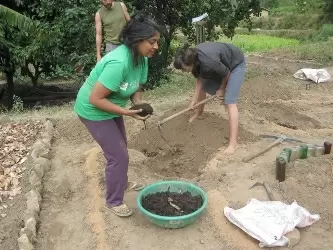 Richa and her father developed the farm along with volunteers
The farm was in shambles and it took them two months to restore it with the help of two volunteers from France and the US, along with local support.

"We decided to use only organic pesticides and fertilizers and what followed for the next 21 months was a constant flow of volunteers from across the globe," recalls Richa.

During their stay at the farm, the volunteers would treat the land as their own and work on the farm from morning till evening.

They would pay a nominal fee of Rs. 300 per day, of which Rs. 200 is taken for food while the balance amount is used for buying seeds and other necessary items required for farming.

The volunteers also helped in building a mud cottage, a kitchen, three eco baths, and ceramic compost toilets, with the help of an expert from Bengal. They also built small canals from the stream to irrigate the farm.

"The ratio of foreigner and Indian volunteers is 80:20. We get lot of volunteers from Mumbai, Bangalore and Chennai, but hardly anyone from north India," says Hari.

The farm boasts of variety of fruits and vegetables that are all grown using organic techniques.

"We have mangoes, lychees, guava, avocado, apricot, and peach. We also grow turmeric, potato, garlic, onion, mustard, beetroot, zucchini and other vegetables. We consume what we grow and the rest is shared with the villagers, who in turn barter off some of their produce," adds Richa.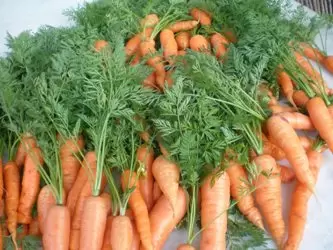 A variety of fruits and vegetables are grown in the farm
The land being off the grid meant there was no power supply and it would often become too dark for comfort. They bought solar lamps and later when Mahindra and Mahindra gave them a cash prize of Rs. 4 lakh for their innovative project they installed solar panels, which now provide them enough electricity to meet their basic needs.

Hari says he would keep reaching out to more people, especially youngsters, to make them understand the significance of nature and the joy of growing food.

Richa is all praise for him. "He has this amazing ability to connect with young people and that's what will keep us going. He just wants a better world and that spirit reflects in each and every element of the farm," she concludes.


Trending Now: