An engineer turned conservationist nurtures forests and dreams of more trees

P C Vinoj Kumar
&nbsp | &nbsp Bangalore
12-July-2013
Vol 4&nbsp|&nbspIssue 28
It is late evening, and the light is fading fast, even as the hovering dark clouds decide to open up with a mild shower as we reach our destination at Whitefield, Bangalore.

Stepping out into the drizzle, Shubhendu Sharma, a former Toyota engineer who is the toast of the town for his mode of urban forestry, opens the compound gate of the beautiful laterite stone house and walks inside.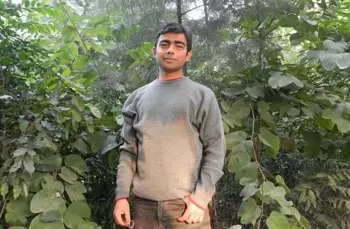 Shubhendu's team has planted about 38000 trees in about 23 different project sites across India
"I have the freedom to enter the house anytime," he says, seeing me hesitate and keeps walking ahead to the backyard of the house, where his 2-year-old forest is located.

What awaits us is a man-made natural wonder, a narrow strip of dense vegetation that is spread over an area of 1000 sq ft, abutting the compound wall.

Around 300 trees, planted about 2 years ago as 30-80 cm tall saplings, have attained an average height of 8 feet. The tallest ones have grown to about 11 ft.

You find the trees, different types, including fruit bearing ones, planted so close to each other –3 saplings were planted in a sq mt area - that it is impossible to even step inside the forest, leave alone walking through it.

Leaves falling from these trees become mulch, keeping the soil moist, providing it with nutrients, and preventing growth of weeds.

That's how the project was conceived – create a natural forest that would sustain itself in 2-3 years time.

Shubhendu, who walks in the footsteps of a world renowned Japanese expert in the field, Akira Miyawaki, whose work he had witnessed personally, believes that natural forests can be regenerated in any type of soil or climate condition.

"We follow certain rules in the forests we create, the basic rule being to plant only native trees," says Shubhendu, whose team has so far done 23 different forest projects, in a total area of about 1 lakh sq ft.

The projects are located at Karnataka, Kerala, Maharashtra, Andhra Pradesh, Tamil Nadu and Madhya Pradesh. Together, they host about 38000 trees.

Creating a forest is serious business for Shubhendu and his team and the whole process is scientifically structured.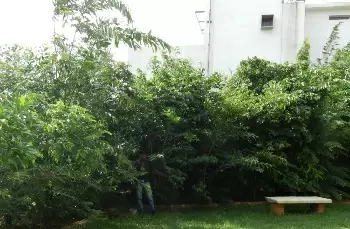 The Whitefield natural forest
While taking up projects, qualified professionals first survey the soil, and identify the native species to be planted.

Later, the soil is prepared by adding natural nutrients according to requirements and only then the saplings are planted.

Their largest project has been in Indore, Madhya Pradesh, where a client handed them three different locations, a total area of 50, 000 sq ft for developing natural forests.

In their Pune project at Talegaon, they have planted about 10,000 trees in an area of 33, 000 sq ft.

In Kuppam, Andhra Pradesh, they are developing a forest along the periphery of a 175 acre campus belonging to the Agasthya International Foundation, an NGO that is promoting scientific temperament among children of government schools in the area.

"Children will be involved in various stages of the project as part of their scientific education. It will give them an insight into conserving biodiversity," he says.

Shubhendu, who studied industrial engineering at BVB College of Engineering and Technology in Hubli, Karnataka, worked at the Toyota Kirloskar plant in Bangalore in the supply and development division.

He came in contact with Miyawaki, who visited the plant in 2008 to implement an afforestation program.

Shubhendu took part in the program as a volunteer and was amazed to see the growth of a forest before his very eyes.

He tried out the technique at his home in Uttarakhand. Impressed with the result, he felt he could replicate the model at other places as well.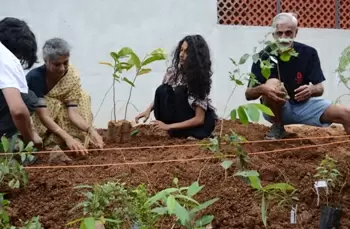 Two years ago, the place where a natural forest stands at a house in Whitefield, the family planted these saplings
Thus was born a for-profit eco company, Afforestt Environmental Conservation Pvt. Ltd.

"I was clear about what I wanted to do. I wanted to leave the earth a better place than the way I found it to be. However, the project had to be self-sustaining and not dependent on external funds," says the 27-year-old.

The company takes up a project at minimum size of 1000 sq ft. It charges about Rs.150 per sq ft to develop the forest, which includes cost of saplings, manure, and planting.

They would maintain the forest for an annual fee of Rs.50, 000 until the time it could survive on its own – which according to them is three years at the most.
But can this technique be replicated anywhere? Shubhendu insists that they could create the forest in any soil or climate condition.

He says the trees would grow at the rate of about 1 meter every year, and help in reducing noise and dust pollution, while absorbing 30 times more carbon-dioxide than a conventional forest.


Trending Now: