A young horticulturist urges people to grow their own food at home

05-July-2013
Vol 4&nbsp|&nbspIssue 27
Mumbai's young horticulturist, Shaan Lalwani, has a literally green solution to get rid of the pesky pests lurking in your house.

During monsoon all kinds of creepy crawlies sneak into the house. Using chemical sprays and repellants to ward off the intruders may be effective, but not an eco-friendly idea.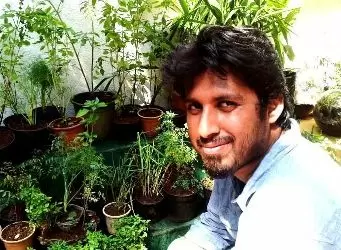 Shaan's nursery has got a variety of plants that could act as insect and mosquito repellants
Shaan, the owner of Vriksha Nursery in Vileparle West, recommends that you use plants to combat the menace in the most healthy and efficient way.

A horticulture graduate from College of Agriculture (Dapoli, Maharashtra) and holding a Masters in Landscape Management from University of Sheffield (UK), he is into innovations in gardening and researching useful plants.

His argument is 'why chemicals' when you have plants like citronella, which is a natural mosquito repellant.

Citronella oil effectively repels the mosquito Aedes Aegypti that transmits viruses that cause dengue fever.

"It can be kept as a potted plant. It needs 6 hours of sunlight daily and 50 ml of water only.

"You can just break the leaf of citronella plant and keep it near the window or rub the extract on your skin to repel mosquitoes," says Shaan, 27 years of age.
Living in a metro he understands the space crunch in high-rise apartments and so experiments with urban farming, landscaping, rooftop gardening, and tries to use window sills and even ceilings to grow potted plants.

Many varieties of useful carnivorous plants are available at his nursery. Citronella at Rs 100 per sapling and the pitcher plant at Rs 1800 are two of the top selling plants here.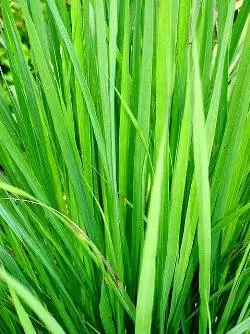 Citronella grass is a natural mosquito repellant
He has sold about 12000 pitcher plants since its introduction in the nursery 5 years ago. For one year, the plant was grown in controlled conditions to test its efficacy in Mumbai's climate.

This insect predator could even devour cockroaches and small lizards (all foraging, flying and crawling creatures) but is quite harmless to kids and curious humans.

The plants have pitchers with slippery edge and lids. When an insect sits over it, the flap closes and it gets digested.

Pitcher plant requires moist soil and it can be watered every two days. It should be kept away from direct strong sunlight.

Another insect eating plant at the nursery is Venus flytrap that costs Rs.750.

Other plants like peppermint, rosemary, marigold, ageratum and catnip also keep mosquitoes away. Herb mint wards off ants.

All these plants can be grown in both gardens and apartments (near windows or balconies).

Shaan says it is possible to combat the insects with a burst of colors and not just with green plants. The vibrant orange marigolds not only look attractive but keep away aphids in garden and mosquitoes detest their smell.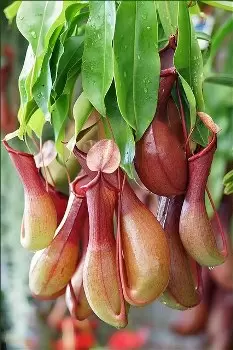 Pitcher plants can even devour cockroaches and small lizards
There are more insect preying plants in the nursery. For keeping rats and lizards at bay he suggests Pencil tree (Euphorbia tirucalli) that has poisonous latex.

Apart from carnivorous plants, he has plenty of ornamental plants, which are all cultivated with organic manure.

Shaan says one could grow herbs even in the smallest of apartments and they would meet your kitchen needs.

He has set of 9 herbs (Rs 1000) and set of 12 herbs (Rs 1500) in a tray filled with soil and coco peat that could be easily put on a window sill. An 8x12 inch herb rack can hold pots of 9 herbs.

Whether one requires basil for Thai cooking or rosemary for Italian, freshest of organically grown herbs would be available right in the kitchen!

The only requirement is daily watering that will fetch fresh herbs like mint, basil, rosemary, ajwain, lemon grass, garlic chives, and thyme for 2 years in the most convenient and economical way.

With rising vegetables prices Shaan suggests that you could buy saplings/small plants of chillies, brinjal and tomato at just Rs 15 each from his nursery and grow at home.

His interest in horticulture and landscape shows his passion for green living that he inherited from his parents, who started a nursery 34 years ago in Mumbai.
Shaan literally grew up amidst pots and plants.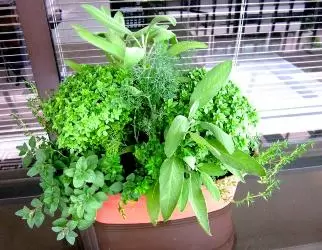 Shaan's herb tray
His father Ashok Lalwani was a self-taught landscape expert who designed the landscape of Joggers Park (Lokhandwala) among several other projects in Maharashtra, Goa and Gujarat.

His mother's creativity transforms stray flowers and twigs into beautiful Ikebana flower arrangement that she learnt from Japan.

Though Shaan inherited their nursery five years ago it is his vast knowledge in horticulture and thirst for finding plants beneficial to people that has seen his nursery expand manifold.

The workforce at the nursery has grown from 13 to 65 in 5 years. Operating from a 0.25 acre space currently, he now aspires for a bigger green plot in Mumbai that could let his customers experience nature in the very heart of this cacophonous city.

Trending Now: