A farmer in Madhya Pradesh has put together a drip irrigation system that comes cheap

03-May-2013
Vol 4&nbsp|&nbspIssue 17
Drip irrigation is a water-efficient means of irrigating fields in drought-prone areas. The infrastructure it requires often proves expensive for small farmers.
Now Ramesh Parmar, a small farmer in Rotala village in Jhabua district of Madhya Pradesh, has devised a simple, inexpensive and effective way of drip irrigating crops.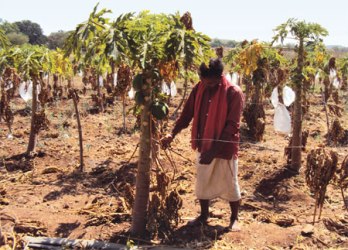 Parmar substitutes saline bottles with polythene packets to irrigate papaya trees (Photo: Kundan Pandey)
The 33-year-old could earlier cultivate only 1.5 bigha (1 bigha = 0.167 hectare) of the 60 bighas he owned due to severe water scarcity. With his new system, involving the use of a few saline bottles, a small water tank and a bucket, Parmar can conveniently irrigate his fields.

Drip irrigation or trickle irrigation, involves slowly dripping water using emitters or drippers onto soil close to the roots of the plant.

Frequent dripping helps maintain optimum soil moisture for plant growth. This system can be used for vegetables, flowers, and orchard and plantation crops.

A year ago, at a workshop Parmar attended in Jhabua, experts suggested farmers pierce a small hole in an earthen pot, place it near the plant, and fill it whenever needed.

Parmar thought this impractical as an earthen pot is difficult to pierce, does not last long and is difficult to carry about from place to place.

Parmar devised a simple drip irrigation system which used saline bottles bought from a scrap vendor.

"I hung one saline bottle above every plant and arranged it such that water could reach the point where it was needed," he says. He constructed a water tank with a tap, filled a bucket in the field using a plastic pipe, and manually filled the bottles.

"It is a bit difficult, as it needs more physical labour to fill the bottles manually. But this is the only available option for a small farmland," adds Parmar.

This indigenous drip irrigation system has yielded remarkable results compared to other farms nearby. "Last year, I sold bitter gourd worth Rs 25,000," says Parmar.
Parmar improvised his technique for papaya cultivation, using polythene bags as a cheaper and easily available alternative to saline bottles.

"Papaya trees need more water, and the small saline bottle cannot provide enough. I struggled with the challenge of filling the bottle several times a day, and I thought, 'why not use another option which can contain more water?' "

Parmar's papaya crop failed because of a viral infection. But he believes his drip irrigation technique is flawless, and intends to use it again.

"The drip technique is not new but Parmar's system is cheaper," says I S Tomar, programme coordinator of Krishi Vigyan Kendra, Jhabua.
"Now small farmers can water plants in measured, precise quantities without wasting a drop. The control node on the saline bottle can increase or decrease the flow of water according to the requirement of the soil. Polythene packets could be used for those plants that need more water," Tomar adds.

Parmar's entire drip irrigation system, including the permanent water storage tank he constructed, cost a little more than Rs 2,000.

"I bought six kilograms of used saline bottles, about 600 bottles, at Rs 20 a kg. I hung a rope across my farmland and suspended one bottle above each gourd plant. I also constructed a small cement tank to store water, which cost around Rs 2,000," says Parmar.

"The drip irrigation scheme in Punjab aided by Central and state governments costs at least Rs 80,000 per hectare," says Mahendra Kamal, state conservator of soils.

The Central government offers a subsidy of 70 per cent and the state government contributes 25 per cent of the installation cost.

Ajay Kumar, chief scientist (rice) at Agricultural Research Institute in Patna gives another estimate. According to him, drip irrigation technology costs at least Rs 1.25 lakh per hectare.

"The maintenance cost is high too. But Parmar's indigenous system has minimal installation cost and no maintenance cost," he adds.

By arrangement with Down to Earth

Trending Now: