Central Institute for Cotton Research in Nagpur has developed a coloured cotton variety

15-March-2013
Vol 4&nbsp|&nbspIssue 11
The mention of cotton evokes an image of pure, milky whiteness. But in nature, several wild species of the genus Gossypium—to which cotton belongs—produce coloured fibre.
The colours range from light to dark brown and light green. Mostly, coloured varieties of cotton have been a part of cotton gene banks more as novelty mutant genetic stocks than as a part of breeding programmes. The reasons are poor fibre quality, colour instability and low yield potential.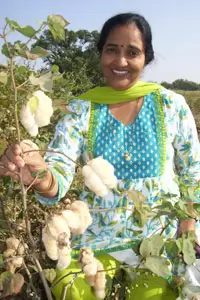 Vinita Gotmare, senior scientist with CICR, has developed a coloured cotton variety (Photos; Down to Earth)
However, the Central Institute for Cotton Research (CICR) in Nagpur has developed a dark brown linted cotton variety that is commercially viable. The new variety, MSH-53, is characterised by stability of lint colour, spinnable fibre quality and a fairly good yield.

Vinita Gotmare, senior scientist with CICR, who has developed the variety, informs that MSH-53 is a multi-species hybrid introgressed reverted tetraploid genotype, which has been derived from hexaploid progenies of cross-breeding involving four parent genotypes—Gossypium hirsutum, Gossypium raimondii, Gossypium barbadense and Gossypium thurberi.

The four parent varieties have been crossed and re-crossed repeatedly to produce a stable variety, says Gotmare.

The lint produced by this variety is dark brown in colour and its fibre length is 20.8 mm, which combined with fibre strength (g/tex value) of 17.2 and a micronaire value of 4.1, makes it a spinnable fibre.

The average plant produces about 50 bolls of 3.42 gm average weight. Per plant yield is a moderate 113 gm. "Added advantages of this genotype is that it is highly resistant to both bollworm and jassid attack, and also resistant to bacterial blight and grey mildew, being a derivative of the two wild species Gossypium raimondii and Gossypium thurberi, which are sturdy and tolerant to biotic pressures," she says.

These qualities, along with the fact that it is a stable variety and farmers can save seeds, make this variety eminently suitable for organic cultivation.

This is also the first time that a coloured cotton variety has been developed through crossing with wild species, says Gotmare. "Stabilisation of a wild gene has been achieved for the first time," she adds.

This fact gives MSH-53 an added advantage of better colour fastness than other coloured cotton varieties. "Most coloured cotton lints tend to fade with time, especially with exposure to sunlight," says Gotmare, "But I have lint from this variety grown as far back as 2007, and it has not faded at all."

The species has been registered with the National Bureau of Plant Genetic Resources, Delhi, she informs. However, releasing it for commercial cultivation will take a long time because of complicated procedures involved.

According to a study by CICR, coloured cottons were in cultivation since long in Asia, particularly in India, China and parts of the erstwhile Soviet Union, and also in Africa and South and Central America.

In India, brown linted tree cottons and red linted cotton were in cultivation under rainfed conditions, predominantly in Andhra Pradesh. Red linted cotton was in high demand because of its better colour-fastness.

However, since the latter half of the 20th century, coloured cottons lost out to advancement of dying techniques, and a commercial push to maximise production. Power looms too had a role to play in its decline since fibre from coloured cotton was short, coarse and weak, suitable only for hand-spinning.

In recent years there has been a renewed interest in coloured cottons owing to their eco-friendliness and the growing awareness of pollution caused by synthetic dyes.

The first commercially viable coloured cottons were produced by Sally Fox in the USA. In Peru, James M Vreeland revived traditional coloured cotton varieties cultivated by 15,000 farmers under the Native Cotton Project. Garments manufactured from this cotton are sold under the brand name Pakucho ('Brown cotton' in ancient Inca language).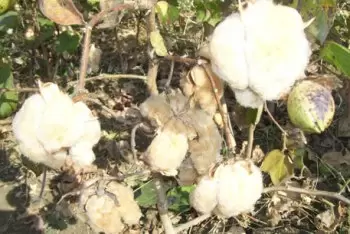 Scientists say it is just a matter of time before commercial cultivation of cotton begins
In India, CICR Coimbatore and University of Agricultural Sciences (UAS), Dharwad, have successfully developed coloured cotton hybrids and varieties.

Senior cotton breeder from UAS Dharwad, S S Patil, says that UAS Dharwad has developed desi varieties of coloured cotton in shades of cream, almond, medium brown and dark brown.

However, permission to release coloured varieties for cultivation is difficult to come by because of the fear of these varieties contaminating white cotton. "At present we are only cultivating these varieties with select farmers on contract basis and experimenting with garment-making," says Patil. The fear of contamination, says he, is exaggerated.

Gotmare, however, says there is substance in the contention that coloured cottons could contaminate white cotton.

"There are a lot of issues related to coloured cotton and it is a matter of time before commercial cultivation becomes possible," says K R Kranti, director, CICR Nagpur.

"But in view of the growing interest in natural and eco-friendly garments internationally, the possibilities are good, and India should work in the direction of creating an enabling environment for coloured cotton cultivation."

By arrangement with Down to Earth

Trending Now: