'Gunis' adhere to the spirit of community service without the greed for money

01-March-2013
Vol 4&nbsp|&nbspIssue 9
Chaturbhuj Prajapati is documenting science in his own way. Popularly known as 'Vaidji' or traditional doctor at Ramnagar village in Jaipur district of Rajasthan, the 55-year-old has trained more than 25 people in the art of identifying beneficial herbs and documented more than 300 medicinal plants along with their names in various languages and dialects.
He intends to increase this list to 500 and then document their usage as well for the reference of future generations. Prajapat has also lined up the periphery of his field, land around the well and even the surrounding wasteland with herbs.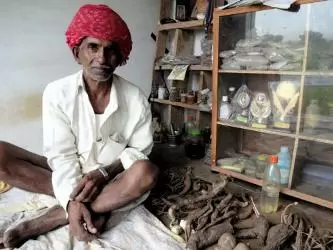 Devaji Loor showing the herbs he collected from the village forest at Dimri (Photos: Ravleen Kaur)
"The idea is to plant 3-4 saplings every time we remove one. Since land is less, we have to make use of every available space," he says.
Prajapat manages a small clinic in nearby Dudu town where people flock for treatment of ailments ranging from typhoid, piles, malaria to skin infections and gynaecological disorders.

"I charge about Rs 10-20 for the medicines from patients, which takes care of my bus fare as well as the monthly shop rent. These herbs are God's gift to humanity. I do not hold a patent for them so how can I charge more? Of course, well-to-do people voluntarily pay more when they get to know that the medicine was sourced from afar," he informs.

Around 400 km from Prajapat's clinic, Devaji Loor of Dimri village in Udaipur district also treats patients with herbs collected from nearby forests. Like Prajapat, Loor offers his services at a price which barely meets the expenses of his travel.

Besides traditional expertise and spirit of community service what connects these two and thousands of others is Rashtriya Guni Mission, an Udaipur-based network of non-profits that promotes traditional medicines.

"The idea is to bring people practising traditional medicines in touch with each other, share their knowledge and expand it. This traditional healthcare system is not only low cost and easily accessible but also has least side-effects as compared to modern medicines," said Dr Jiya Lal, an Ayurvedic practitioner and co-founder of the Rashtriya Guni Mission (RGM).

The genesis of this network dates back to 1989 when Bhanwar Dhavai, presently convener of the organisation, came face to face with the stark reality of Indian healthcare system.
Around 15 children died of diphtheria in Charmar village of Girwa block in Udaipur district due to absence of doctors. Working as a social worker with a non-profit organisation Dhavai realised that instead of blaming the government for not reaching out, community initiatives need to be supported.
Soon, an informal group of ayurvedic practitioners and social workers was formed and assistance was taken from non-profits working in other villages to identify traditional medicine practitioners or the 'Gunis' – meaning the virtuous ones.

Today, the network has spread to eight states, including Himachal Pradesh, Uttarakhand, Jharkhand, Bihar, Odisha, Madhya Pradesh and Gujarat, with over 1,500 active 'Gunis'. That was made possible through collaborations with like-minded organisations and individuals in these states.

However, it was not an easy exercise to begin with. "Even ayurvedic doctors objected to mainstreaming of traditional practitioners who were mostly tribals. But this opposition fizzled out through interactions which made everybody realise that the villagers have inherited a treasure trove of knowledge from their ancestors," explains Dr Lal.

The mission conducts a three-phased training where 'Gunis' from various states share information about medicinal plants, their identification and usage. "In every region of India, there is a different traditional medical system, which may be called Amchi, Ayurved or by any other name.

"By bringing the 'Gunis' on a common platform, we are trying to restore their confidence in traditional knowledge. Now, they are themselves conserving medicinal plants and re-establishing the community's traditional health system besides documenting it. The biggest achievement has been the inclusion of midwives and women in the initiative," says Dr Lal.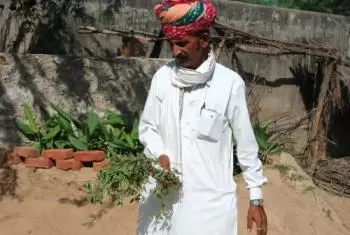 Prajapat and his brother have planted herbs in half acre of their agricultural land
Just like a field trip for doctors, 'Gunis' also get to visit new areas and learn about different herbs. "I saw 'Vajradanti' growing in Udaipur and brought a sapling here.

Today, 'Vajradanti' is growing in profusion in Dudu. Thanks to this network, I have roamed the jungles of Rajsamand, Kumbalgarh, Bhim and even tribal areas of Gujarat where we found several rare herbs," says Prajapat.

A certificate at the end of a three-phase training also helps the 'Gunis' extend their practice beyond their own villages and bring home a steady income. "We help them set up a clinic at home or in the market area and promote their services in nearby villages.

"Many of the 'Gunis' are today earning anywhere between Rs 8,000-10,000 per month. The money also ensures that the knowledge is passed on to the next generation at least to ensure daily sustenance," says Dr Lal. For amateurs, the organisation runs a short-term course dealing with 10-15 herbs which can be planted at home to treat most common diseases.

Prajapat and Ratan Lal, have dedicated half an acre of their agricultural land to growing herbs like Jatashanker, Chirmi, Gooler, Bordi and Neem. Increasing commercialisation of herbs, however, pains these practitioners of public good.

"We have lot of resources which are unfortunately being exploited by corporates with only profit in mind. For instance, the market value of 'Shankhpushpi' herb which is good for memory is Rs 1,000 per kg but the tribals who source it out get no more than Rs 250," says Rattan Lal.

Thankfully, far away from the greed of money and fame, 'Gunis' adhere to the spirit of community service which is at the heart of medical profession.

By arrangement with GOI Monitor


Trending Now: