In the high altitudes, she helps rural people take care of nature and themselves

23-February-2013
Vol 4&nbsp|&nbspIssue 8
Her love for the Himalayas, coupled with an adventurous spirit, a desire to conserve nature and better the lives of local people made Ishita Khanna settle in the snowy heights of Spiti valley in Himachal Pradesh.

Making use of available natural resources and her ingenuity, Ishita promotes solar energy, eco tourism, and a food processing unit, all of which provide jobs or other benefits to the locals.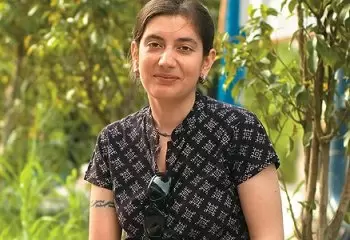 Ishita believes that conservation efforts need to be linked with local livelihoods
"There has to be a link between the livelihoods of local people with any conservation effort; otherwise people see no value in conserving nature or heritage," she observes.
Earlier, while working with the rural development department in Himachal Pradesh, Ishita was engaged in various development works in Spiti valley.
An avid trekker in the Himalayas from an early age, this Dehradun bred girl always had great reverence for the Himalayas and was aware of the ecologically fragile region of Spiti. When a project with the government did not materialize, she quit government service and started an NGO called 'Muse' in 2002.
In 2006, she launched another entity, 'Ecosphere,' to generate livelihood for the rural people in Spiti and for conservation of nature, culture, and heritage of the unique Trans-Himalayan region.
The rugged terrain, high altitude (ranging from 10000-17000 ft), heavy snowfall in winter, poor communication and infrastructure facilities, erratic electric supply and the laid-back attitude of the people could have deterred many but Ishita was determined to achieve her goals.
She found support from Nono Sonam Angdui, the king of Spiti, who had similar thoughts on linking local livelihoods with conservation.
Ishita had read about 'Sea Buckthorn,' a thorny shrub that grew wild in the region, which had great medicinal and nutritive value. But the locals who had no knowledge about the plant used it for fencing and as firewood.
Ishita was struck with the idea of starting her conservation work with this wonder berry. "Sea Buckthorn is ecologically very good for the region as its roots go deep and help in soil binding as well as fixing nitrogen," she says.
She learned that traditional physicians made medicines from it and that the ripe yellow-orange berries could be used to make jams, juices and other products. Ishita set up self-help groups of women for harvesting berries and created processing units to make a wide range of food products including jam, fruit drink concentrate and tea from the berries.
The harvesting season is only 2-3 weeks in a year. Women from around 30 villages in Spiti earn about Rs500-Rs800 per day during this season.
Under the brand name of 'Tsering' - which means 'blessings for a long life 'in Spiti language – the products are sold in premium retail chains in the cities.
Ishita has also built 'solar passive houses' in villages by tapping solar energy to keep the houses warm in winter nights, when temperature plummets to -35 degree Celsius. The government sends truckloads of fuel wood for people to keep themselves warm and the locals cut down trees for the purpose.
But the scenario is changing with introduction of the solar passive houses. "In winter, the whole family shifts to one room in the basement of the house. We use good insulation material and other techniques in the solar passive room to trap the heat and retain it during the night," says Ishita.
Even if the temperature falls steeply outside, in these rooms temperature does not drop below 10 degree Celsius. In more than 300 houses spread across Spiti valley she has helped cut down fuel wood consumption by 60 percent and contributed to huge reduction in carbon emission in the region.
As for her tourism project, she promotes homestays and nature treks with involvement of the local population. "All trips designed by us have minimal impact on environment. We try to neutralize carbon footprint by investing our revenue in building solar passive houses, and by promoting conservation and local development projects," says Ishita.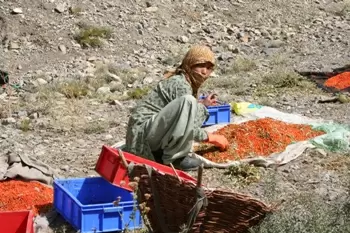 Products made by local women from 'Sea Buckthorn' berries are sold in cities
The number of tourist arrivals has steadily increased - from few hundreds to 2000 tourists in a year now. Tourists stay in traditionally built houses, and are taken on Yak safaris, nature trails, and visits to Buddhist monasteries.
Local youth are trained as mountaineers, naturalists, interpreters, cooks, and home stay providers. The critically endangered wolves once feared and hunted by the villagers are now being shown to tourists in nature trails by local escorts. There has been an attitudinal change for its preservation.
However problems are many as Ishita laments the scarcity of water in the region. Locals depend on spring water for drinking that is drying up. "We have to work out how to renew groundwater so springs do not dry up," she says.
On the academic front, Ishita has completed a basic and advance course in Mountaineering from Nehru Institute of Mountaineering. Her master's level dissertation at the Tata Institute of Social Sciences (TISS), Mumbai, was on the impact of tourism on the socio-cultural, economic and ecological environment.

Trending Now: