An organic farmer is role model for educated youth, many from the corporate world

15-February-2013
Vol 4&nbsp|&nbspIssue 7
Many youngsters are pouring into Pakkam, a village in Thiruvallur district, about 35 km from Chennai to meet 37-year-old R Jeganathan, an organic farmer, who grows around thirty varieties of greens in his 2-acre leased farm.

In these days when people are quitting agriculture citing financial losses, here is someone who says agriculture is profitable.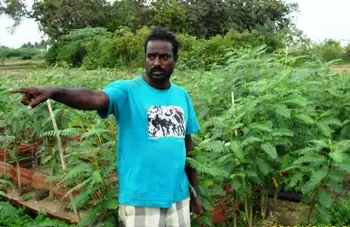 Youth are looking up to Jeganathan for guidance in organic farming (Photos by P C Vinoj Kumar)
"The focus has to be on integrated farming. You need to take up dairy and poultry farming along with agriculture to make farming sustainable and profitable," he says.

Jeganathan's message is simple: "Shun chemical fertilizers which are not only expensive but also harmful for human health. Use organic manure from your dairy and poultry farms. You save cost and save your health."

He has emerged as a role model for educated youth, who are planning to take up organic farming seeing an opportunity in the growing demand for organic food in urban areas. They look around his farm, and discuss with him the income and expenses involved in the venture. Many from the corporate world, including a former financial analyst, Gowtham Balaji, who was earning around Rs.75000 per month, have joined hands with him.

Sathish Gupta, who had recently quit his job as accounts officer in Qatar Airlines, has plans to go back to his hometown in Tirunelveli district and start organic farming. Jeganathan invites him to stay in his farm for some days and gain practical experience.

He recommends multiple cropping and cultivation of short term crops to avoid losses during the initial stage.

"It takes a reasonable period of time to detoxify land that has been subjected to severe dosages of chemical fertilizers for decades. In this time you can grow different varieties of greens, some of which can be harvested even from the fifteenth day onwards. There is demand for organic vegetables in the market," he says.

Jeganathan, who belongs to Pakkam village, dropped out of college while doing BCom, unhappy with the education system that stifled creativity.

In 1999, he conducted a socio-economic survey among the 240 families living in his village. The survey findings were an eye-opener. He found that about 60 percent of the annual income of the villagers - which was around Rs.1.6 crores – had been spent on purchase of fertilizers, pesticides, medicines and alcohol.

"I realized by switching to organic farming we would be able to save a lot of money and ensure better health for the people," he recalls.

Spurred by the thought, he travelled all over Tamil Nadu, met well-known organic farmers like Nammalvar and Gomathinayagam, and began to learn from them.

In 2011 he took some agriculture land on lease at Pakkam and started cultivating on 2 acres of land initially. Soon, some youngsters joined him and helped him to market the produce under the brand name of 'Nalla Keerai' ('nalla' is good and 'keerai' is 'greens' in Tamil) directly to customers in Chennai.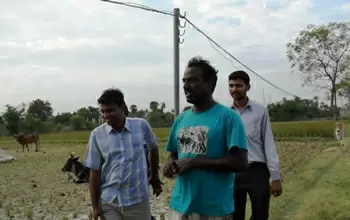 Many youth with Jeganathan have resigned their corporate jobs to take up farming
"We sell at parks targeting the morning walkers and at residential apartments. The response has been excellent and people contact us by phone and place their orders," he says. At present, they are at a transition phase and are cultivating only in 30 cents (100 cents make 1 acre).

He estimates that Chennai consumes about 10 lakh bundles of greens daily. Each bundle weighs around 50 grams to 900 grams depending upon the variety. They sell most varieties at Rs.15 per bundle, keeping the price on par with the (non-organic) greens sold at shops.

"Organic vegetables are sold at a premium price at stores in Chennai. We want to sell at regular price and win more customers. The idea is to offer a better, healthy product at a lower price and build a market for our organic greens among the masses. In the long run, we hope this strategy would compel other farmers too to switch to organic farming," he says.

Jeganathan hopes the idea will catch on and more people would join hands with him to promote organic farming in the coming years.
Wish to share your story?
Trending Now: