A body of shimmering water reflecting a community's participation in conservation

30-November-2012
Vol 3&nbsp|&nbspIssue 48
In the times when tapped water supply is considered an absolute sign of development, the traditional water harvesting systems are losing their age-old relevance. This is why the Lakholaav pond in Rajasthan assumes greater significance.
Located at Marwar Mundwa town in Nagaur district, Lakholaav is an exception. As ponds in other towns have shrunk due to encroachments and dumping of garbage, Lakholaav is providing drinking water to the town the whole year round. Citizens as well as the municipal committee take utmost care ensuring cleanliness and efficient management.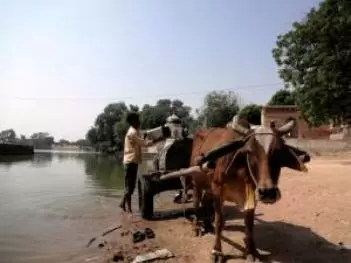 Small ox-driven tankers offer home delivery of water from Lakholaav pond (Photo: GOI Monitor)
"According to a folk tale, the pond was developed by Lakha Banjara, a nomad trader whose tribe used to stay put in the area on its way to bigger cities. Since water is not easily available in Rajasthan, nomadic tribes like that of Lakha Banjara used to dig such ponds on their travel routes, which could also be used by the locals," says Girdhari Singh, who belongs to Mundwa and works with community on traditional water harvesting techniques in Jaisalmer district.
The town population has now grown up to around 15,000 but Lakholaav remains the major source of drinking water despite there being 12 other big and small ponds in the town. High fluoride content in the groundwater also makes rainwater harvesting a necessity rather than just a traditional practice.
"Lakholaav has a special place here as it is the biggest, suitably located and cleanest of all ponds. We have been drinking this water just by putting it through a cloth sieve," says Deepak Sharma, who owns a medical store in the town.
At the ghats, village women come in groups the whole day while small ox-driven tankers also offer home delivery on payment of a small fee. Several peepal and banyan trees dot the ghats which also feature four temples thus ensuring the sanctity of the area.
There is a ban on bathing, washing clothes and entry of animals in the pond. Boards warning against open defecation within 2 km of its catchment area have also been erected. Though most people obey these restrictions, two guards appointed by the municipal committee also keep a watch.
Several modifications have been made in Lakholaav's structure over the years. A 3 km long channel has been constructed connecting the catchment area on a nearby hillock with Lakholaav ensuring good water inflow even during weak monsoon as was the case this year.
The channel also has lattices at several places to prevent filth from entering the pond. A natural treatment plant further cleanses the inflowing water. A few years ago when the pond dried up due to drought, the municipal committee decided to desilt the pond. Local farmers chipped in with their tractors and used the fertile soil in their fields.

One of the reasons why ponds are still revered at Marwar Mundwa is the fact that the underground water is heavy with fluoride. "There is a tapped water supply every alternate day which is strictly used for bathing and washing purposes.
"Besides getting their supplies from Lakholaav, around 50 per cent homes also harvest rain water in a small underground structure called tanka," informs Atma Ram, a lower division clerk at the Marwar Mundwa Municipal Committee.

Lakholaav is not just a traditional water source but a great social binder. "The pond and its surroundings offer a cool place to relax in the evening. The ghats also host the whole village during festivals, especially for Teej and Dussehra celebrations. However, there is no littering one associates with large gatherings," assures Sharma.
With this amount of civic sense and utmost respect for a natural resource, it seems contaminated underground water is a blessing in disguise for this town.

By arrangement with GOI Monitor


Trending Now: