Over 1 lakh migratory birds arrive in Kashmir

Sheikh Qayoom
&nbsp | &nbsp Srinagar
20-November-2012
Vol 3&nbsp|&nbspIssue 46
Heralding the arrival of winter, migratory birds have started arriving in the wetlands of the Kashmir valley from Siberia, eastern Europe, China and the Philippines.
Life has again returned to the Hokersar wetland reserve, 12 km from city centre Lal Chowk, where over 100,000 migratory birds have already landed.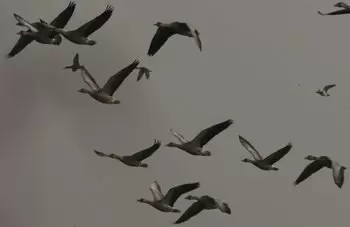 Migratory birds at the Hokersar wetland reserve in the Kashmir valley. (Photos: Raashid Bhat)
"As first arrivals, we have graylag geese, mallards, pintails, gadwalls, pochards, common teals, tufted ducks and coots thronging the Hokersar wetland reserve," said Rouf Ahmad Zargar, wildlife warden (wetlands).
"Birds of passage such as cormorants can also be spotted. But they are here for a short period. With advancing cold, they will move down to the plains."
Besides migratory birds, there are hundreds of purple moorhens and dabchicks that live permanently in the valley's wetland reserves.
"These are resident water birds. They live, feed and breed inside the wetland reserves here, but a new trend seen during the last decade or so has been that some species of migratory birds such as mallards stay back in the valley for the summers too," Zargar said.
"These birds are now seen laying and hatching eggs inside the wetland reserves here during the summer months. This phenomenon can be attributed to the congenial living conditions here," he said.
Other major wetland reserves of Kashmir such as Shallabugh, Hygam and Mirgund have also started receiving avian guests who come here to avoid the extreme winter cold of their summer homes.
"The passage of the migratory birds is a marvel of navigation unparalleled even by the most hi-tech aircraft. Leading by instinct, the birds cover thousands of miles flying into the valley from their summer homes," said Master Habibullah, a 72-year-old bird watcher from Chanduna village near the Shallabugh bird reserve in Ganderbal district.
"The discipline and formation in which the migratory birds fly is a sight to watch. The eldest of the flock pilots the flock while others fly behind.
"Usually the leader bird is one that is acquainted with the aerial route. If for some reason the pilot fails to lead, the second in line takes over the navigational responsibilities", he said.
Interestingly, in his youth, Habibullah used to shoot birds.
"It is probably as penance for the follies of my youth that nowadays I spend most of my time watching birds and fighting for the preservation of their habitats," he said.
As low-flying squads of common teals whiz past his home, Habibullah narrates the tales of childhood to his grandchildren.
"At times, he becomes so nostalgic that we sit around for hours listening to his stories about migratory birds," Habibullah's 14-year old grandson said.
"The well-being of migratory birds and other such species is an indicator of our existence. The ecological web is so closely interwoven that any weak link means disaster for the entire ecological chain," said Habibullah. - IANS

Wish to share your story?
Trending Now: