Joint forest management benefits both officials and villagers in Oghna forest range

09-November-2012
Vol 3&nbsp|&nbspIssue 45
The tribal mountain belt of southern Rajasthan belies all notions of a desert state. Lush green hills, frequent water bodies and small farmlands exude abundance.

This bounty gets more evident as one enters the Oghna forest range in Udaipur district. The forest becomes denser underscoring the close relation people share with nature.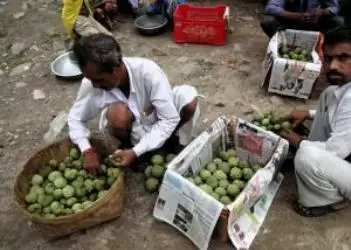 Sitaphal (Sugar apple) is just one of several forest products that people sell in the market (Photo: GOI Monitor)
Though joint forest management (JFM) has been at work through most forest areas of Rajasthan, the cooperation between forest department and the village forest protection and management committees (VFPMCs) in this area has turned into financially viable alliance.

Under JFM, village communities are entrusted with protection and management of nearby forests which are usually degraded or deforested.

In Oghna, communities are not only conserving the forest cover but are also making good use of the forest resources by processing aloe vera juice, natural cosmetic products and turning bamboo into incense sticks and furniture.

At Atatia village, aloe vera is the buzzword. Spread over 50 hectare of enclosed forest land and also taking roots in the 75 hectare open forest, the plant is termed as the harbinger of wealth.

It was in 1996-97 that the then Divisional Forest Officer (DFO) D P Saxena decided to plant aloe vera around the boundary of forest to protect it from degradation.

"Aloe vera serves a twin purpose. Animals don't eat the plant and having it on the boundary ensured a natural barrier saving the trees planted inside. This also ensured that fodder grass grows to its maximum length which is later harvested by villagers for feeding their livestock.

"In addition, aloe vera is popular for its health benefits and it was up to us to utilise it," says Pradeep Singh Chauhan, the forest guard of Oghna range.

However, the forest officials realised that absolute protection was not possible without involvement of the locals. In 2007 a village forest protection and management committee (VFPMC) was registered at Atatia which also had members from nearby villages of Kitwato Ka Kheda, Sakla, Basda, and Oghna.

Today, the VFPMC is involved in collection of aloe vera, its processing and packaging. The committee sells 50 litre of aloe vera juice daily, most of it to the dealers in Udaipur and Ahmedabad.

The left out pulp is also being lately used to make aloe vera shampoo and face gel. Sherbet of fruits including dates and blackberry are also sold.

The committee made a profit of Rs 2.67 lakh in the first year which went up to Rs 4 lakh last year.

"The first year, we used the income in further plantation and now we have invested in getting new processing machines. The committee is also paying wages to eight workers, the security guard and for any repair work. Besides, we have stopped charging any fee from the villagers for cutting of fodder," says Manohar Singh, the head of Atatia VFPMC. Earlier, villagers used to trek 10 km to get fodder.

Though the grass is still not enough to meet the annual requirements, produce from individual farms make up for it. At the neighbouring Peepulbara village, the Kathori community has been engaged in making incense sticks from the blocks of bamboo provided by the forest department.

Traditionally, the community was engaged in collection of forest produce, especially katha (used in pan masala) from Acacia catechu tree (locally known as khair).
However, the process involved cutting of the trees as katha is present in the inner reaches of a tree's trunk. While the number of trees gradually declined due to overexploitation around 20 years ago, the Kathoris got into daily wage labour and sale of honey, gum and amla.

It became increasingly imperative for the forest department to check the cutting of bamboo from its area and use it for everybody's profit. "When new plantations are done, we try to include 30-40 per cent of bamboo. The VFPMC formed at the village seemed the best way not only to preserve the trees but also to earn profit, both for the community and state treasury," says Chauhan.

Around five villagers were taken to Andhra Pradesh for training around two years ago, who then trained others in the community. Starting with hand made incense sticks, the families were given pulley machines later.

"Forest department provides the blocks of bamboo which are then chipped down and turned into incense sticks using the machines. These sticks are then sold to the department at Rs 16 per kg," says Ramlal Kathori, a resident of Peepulbara.

This has worked out as a source of additional income as just putting 2-3 hours of daily work yields around 5 kg of sticks.

"As many as 29 machines were given which are shared by 60 families. Last October, we sold 10 tonne of the incense stick to a dealer in Ahmedabad. The villagers are also not cutting bamboo because they are making money out of it and that too legally," Chauhan says.

These examples underscore the fact that JFM is not just about giving rights to the community over forests. Only when they see tangible benefits in their livelihood, will they work for its preservation.

As Chauhan puts it: Making the community dependent on non-wood forest produce is the key to conservation.

By arrangement with GOI Monitor

Wish to share your story?
Trending Now: