Indian rhinos facing threat of extinction: Experts

Sanjeeb Baruah
&nbsp | &nbsp Guwahati
15-October-2012
Vol 3&nbsp|&nbspIssue 41
A thriving market in east and southeast Asia in illegal wildlife products, particularly among cultures that prize the rhino horn for its magical or medicinal qualities, are driving the rhinoceroses to extinction, say experts.
China, Vietnam and Thailand are major consumers of rhino horn, fuelling the mass killing of rhinos across their ranges in India and elsewhere, they said.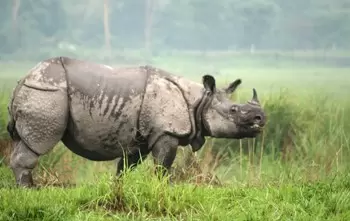 A one-horned rhino at Kaziranga National Park (Photo : Prabal Sarkar/ Wildlife Trust of India)
Assam's Kaziranga National Park, the world's last major refuge of one-horned rhino, saw two massive floods this year. The flooding of the Brahmaputra river wreaked havoc in the park first during July-August and again in September.
Over 600 animals died in the first wave, and about 130 more perished in the second. But not all were drowned. Some rhinos fleeing the flood fell victims to poachers.
"As the reward for rhino horn shot up, many ex-militants have joined the ranks," says a senior official of the Wildlife Crime Control Bureau (WCCB), requesting anonymity.
"Use of automatic weapons is of particular concern, as it shows the poachers' increasing sophistication," he said.
Kaziranga, despite being one of the best-protected reserves in the country, faces a daunting task "because poachers are even ready to face the bullet", said Tito Joseph of the NGO Wildlife Protection Society of India (WPSI).
The 800-plus sq km Kaziranga park, is a world heritage site and is home to elephants, tigers, slow loris and swamp deer, among others.
This year, 15 rhinoceroses were killed in the Kaziranga landscape, said Joseph.
"Poachers cut the tail and ear of the rhino to prove to the buyers that the horn is genuine," he said.
"We believe the rhino horns from recent poaching are still in the country," the WCCB official said.
Border guards and other enforcement agencies have been alerted, he said.
Dimapur town in Nagaland is a hub of this trade, and from there rhino horns are trafficked through Myanmar out of the country.
"China and Vietnam don't have rhinoceroses, hence they source the rhino horn from India. Traditionally, these markets depended on Africa but a new source was always welcome," the official said.
South Africa, another major rhino range country, which earns huge revenues from wildlife tourism, has lost over 400 rhinos to poaching since January.
Despite best security measures in sanctuaries like Kruger National Park, poaching continues.
"This shows the money poachers are being offered," said Joseph. "Rising income of the middle class in consumer countries is fuelling the rhino horn trade," he said.
"Many of these countries do have laws to prevent the sale of wildlife articles, but their enforcement is often lax," said Joseph.
The rhino horn is made up of calcium, melanin and keratin, the same substance as human hair and nails. Calcium deposits make the horn core stronger, and melanin protects the core from the sun's UV rays, experts say.
But some cultures prize the rhino horn for magical qualities, while others used them as dagger handles or good luck charms.
The one-horned rhino (Rhinoceros unicornis) is today found only in India and Nepal. It has been exterminated in Bangladesh. India, with some 2,500 rhinoceroses, is their main home. Nepal has about 370 rhinos.
The African black and white rhinos are bigger bodied compared to their Asian counterparts, but they are equally threatened.
It is estimated that the trade in wildlife body parts is only third to arms and narcotics, a grim reminder of the threats rhinos face. - IANS
Wish to share your story?
Trending Now: