She makes soaps without Sodium Lauryl Sulfate and cosmetics with natural products

Radhika Giri
&nbsp | &nbsp Chennai
12-October-2012
Vol 3&nbsp|&nbspIssue 41
Can you eat your soap is a strange question. But after speaking to Rashmi Prithviraj, one would set about thinking on those lines; for Rashmi manufactures a range of products for cleaning and skin care routine that are made of natural ingredients such as almond, milk, honey, and chocolate.
This 37-year-old commerce graduate who landed in Chennai after living around India and the Gulf sells these products at her outlet 'Skinsense,' located at Besant Nagar in Chennai.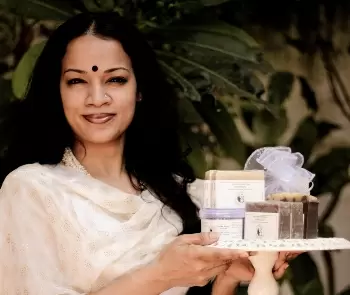 Rashmi learnt to make natural soaps when she was living in the Gulf
She is involved in her work more out of passion than as a business. "The soaps available in the market contain sodium lauryl sulfate which is a carcinogenic item and not everyone is comfortable using it. At present we are exposed only to the wrong variety of cleaners," she says.
The nature tag to her products has started attracting the environmentally conscious folks to her shop.
Rashmi pitches the idea of looking clean naturally. "I would say, pick a natural product to 'look more good!' I've had people with serious skin issues come in and return happy," she says.
Skinsense stocks a range of products from soaps, massage bars, body butters, lip balms, body scrubs to body dusting powders. The products are made of any of the items as almond, milk, honey, clay, oats, basil, citrus, cinnamon, chocolate, ylang ylang, lavender and sandalwood.
"A natural product would have all the ingredients used listed on the packet. There should be no names that you do not understand," explains Rashmi pointing out the difference between her products and those sold by FMCG companies.
At Skinsense people walk in and shop at a leisurely pace. They talk to Rashmi and pick products suitable for them.
"I did not start out to open a business. I am here only because of the word of mouth recognition that I received from users of my products. My friends were the first to use my products," says Rashmi.
She adds: "While I grew up in the Gulf, I noticed that the women there made their own soaps at home. I soon learned to make them myself and as we moved around each place, it was just an enjoyable hobby for me to make them.
"When I moved to Chennai I was still using a commercial soap until I developed a rash and decided to prepare a bar for myself. That is how it started. Friends became my customers later. We opened the outlet two years ago."
Skinsense has arrived at a time when there is a growing awareness on natural and environment friendly products.
The range of products in the shop is enough for a daily routine of cleaning, scrubbing and moisturizing to make one look good, says Rashmi, adding that though there is awareness on natural products, people are yet to develop the skills to buy a natural product.
"A natural product is something that you put into your mouth and also apply on your body," she says.
For example, her dusting powder is made up of cereals and grains and is different from the commercially available talc that is mineral based.
The price range at Skinsense begins at Rs 170 for a 140 gm handmade soap.
For someone who moved from a creative field into soap making, she says the transition is just right for her and hugely satisfying.
"This is hardly business for me. The pleasure of making the products and seeing it help others looking for such products is the most satisfying experience," says this niche entrepreneur who finds herself unintentionally but happily categorized in the field of safe products for the earth.

Wish to share your story?
Trending Now: