A hill where more trees has meant less work hours for the women

Prem Chadha and Taarika Chugh
&nbsp | &nbsp Almora
05-October-2012
Vol 3&nbsp|&nbspIssue 40
Collecting fodder and firewood to keep the household running would once take four hours of Sunita Arya's time every day.
Today, she spends just half-an-hour on the same chores. What brought about this almost magical turnaround? The systematic protection of the village forest, thanks to an effective van panchayat (forest governance unit).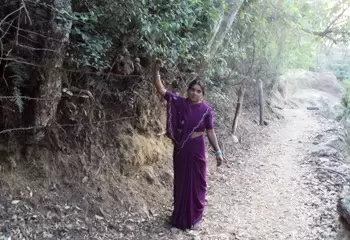 Van panchayat has given local people a stake in forest protection (Photos: WFS)
Recalls this 32-year-old woman from Guna village of Lamgarha block in Uttarakahnd's Almora district, "Earlier, just finding fodder, firewood and even water sources was so difficult. We women, with our children, would spend a lot of time – sometimes walking up to six kilometres every day through degraded forests, carrying back heavy headloads of fodder and firewood."

She also remembers how, because firewood and fodder were in such short supply, they would break branches off the trees even if they were not fully developed.
Scarcity led to fierce competition among the women and each one would try to get up earlier in the morning so as to be the first on the scene and thus collect the maximum amount of fodder and firewood.
All this is history now. The van panchayat has established strict rules that everybody has to follow.
Sudha Gurwant, sarpanch of the Guna village van panchayat, points out that women are now careful that they follow the set norms. For instance, they make sure that they collect only leaves instead of lopping off entire branches.
Adds Gurwant, "We have also grown napier grass for fodder because it is thicker, easier to cut and ensures a good milk yield from our cattle. Now we have a large supply of this grass close to our homes and this saves time in collecting fodder. It cuts down on wastage since we harvest only what we need immediately."
Not just fuel and fodder, new systems of water supply have been put in place as well. Villagers have built water storage tanks in their homes – mostly large open pits lined with plastic – at no great cost.
While the materials required to build them have been funded by the Central Himalayan Environment Association (CHEA), a Nainital-based NGO, the locals have contributed their own labour to construct them.
In Guna, for instance, each of the 22 homes has a water tank used for various household needs, including for irrigating vegetable gardens and watering livestock.
Moreover, CHEA has encouraged the villagers to dig small pits in the forest to collect rain water. This helps to stop the run-off and allows the water to percolate into the ground, providing moisture to the soil and replenishing the ground water. It has also helped to rejuvenate the sources of spring water.
Says local homemaker Anita Arya, "All these changes have brought us a lot of comfort. Instead of spending hours making three or four trips to distant springs to collect drinking water, we can concentrate on other activities, including income generating ones."
This means that there is now a little extra money coming into households, thanks to the general revival of the region's natural resource base.
Nobody can describe the changes that have visited the region better than Padmavati, 62, of the neighbouring Tori village. Says she, "When I came into this village as a 13-year-old bride, it was green. We never had problems getting fodder. Over the years, I have seen our forests vanish. Thankfully, things are slowly recovering.
"Two years ago, I joined the van panchayat samiti and have seen what we all can achieve if we work together. These days I earn most of my income from the milk I am able to sell."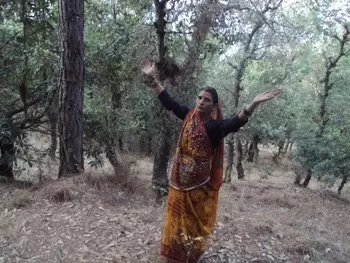 The forests are getting back their green cover
One aspect they keep in mind when they replant forests is to have a variety of trees rather than follow the prevalent pine monoculture model promoted by the Forest Department, which contributes to forest fires since pine needles are extremely inflammable.
Oak trees are particularly favoured by the women because their roots hold rainwater ensuring that there is more moisture in the soil. "We try and pick up all fallen leaves and dried wood. This gives us manure and cooking fuel, and helps in fighting forest fires," elaborates Anita.
Almost two-thirds of Uttarakhand is under forest cover, which is a major source of revenue – not just for the state but for ordinary people as well.
So deforestation clearly undermines community well-being, which is precisely why the institution of the van panchayat is so important. It gives local people, particularly women, a stake in forest protection.
Sarpanch Sudha Gurwant concludes with a pithy observation, "When our van panchayats work well, our forests are healthy and our people are happy."- Women's Feature Service

Trending Now: