'Barah anaaj' farming may be in its last stages in Uttarakhand

26-September-2012
Vol 3&nbsp|&nbspIssue 38
The farms in the Himalaya present a charming picture. The pristine forests and mountain slopes cut to make way for terrace farms look picturesque. But what's more fascinating is the way people living in these hilly terrains have managed to sustain themselves for decades, using barah anaaj (12 grains).

So much so that they have never felt the need to adopt modern-day agriculture practices, which include use of pesticides and fertilisers.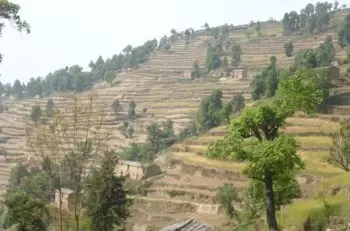 Barah anaaj is a mixed farming system practiced by people living in the hilly terrains of Himalaya (Photo: Down to Earth)
I was introduced to this traditional farming practice during my recent visit to the districts of Almora, Chamoli and Ranikhet in Uttarakhand.
Barah Anaaj is a mixed farming system wherein farmers grow 12 foodgrains on the same piece of land. These 12 crops include ram dana (amaranthus), rajma (kidney bean), ragi (finger millet), mangjeer, green gram, buck wheat, lobia (black eyed pea), horse gram, a traditional soy called math and a few other crops.

Farmers in Uttarakhand explain that the reason their ancestors used to follow this practice is that in case one crop fails due to climatic conditions, the others can be harvested. This would ensure food for family and a farmer will not have to beg others for food.

The system also ensured less pests and diseases. It also helped them fight drought. "Ragi is one of the crops that would survive even in harsh hot weather. Even one rainfall is enough for the seed to germinate," farmers in the area say.
"I still remember sowing 12 seeds with my mother. Even in droughts, we had enough food to eat," says 60-year-old Shanti Devi from Panwadhokhan village in Almora district. It was a laborious work and we used to harvest one crop after another as their maturity times were different.

After harvesting, the crop was dried in the sun and stored in huge mud utensils. She adds, "Women in our areas are always busy. Our day starts in darkness and ends in darkness. We get up at 4 am, finish household chores and rush to the farms by 7 am. By noon we come back to cook lunch and then winnow, clean and thresh the foodgrains."

The practice of growing barah anaaj is generally followed in Kharif season because during Rabi season weather is generally cold and temperatures are very low. The seed sowing starts between mid-May and mid-June. Harvesting is done between mid-September and mid-October.

But the irony is that this system is already on brink of disappearance in the state. The reason is popularisation of mono-farming, the practice of growing a single crop, to boost the income of farmers.

The switch is for betterment of farmers according to government officials. But it leaves me in a dilemma. With climate change and uncertainty in weather conditions like erratic rainfall and long drought spells will this mono-culture help farmers? What is more important for Uttarakhand farmers'–sustenance or commercialisation?

By arrangement with Down to Earth


Trending Now: