Kolkata architect swears by 'vernacular architecture' to create green buildings

04-September-2012
Vol 3&nbsp|&nbspIssue 35
Laurent Fournier's tiny flat in Kolkata looks as if he moved in yesterday. The furniture is sparse, there are no fancy gadgets—not even a television—and none of the windows are curtained. The space gives a bare feel, yet brims with life.
The French architect's and his Bengali wife Bithi's three children run around pretending to be circus artists, declaring they are going to sing or march with their faces covered with upturned cane stools.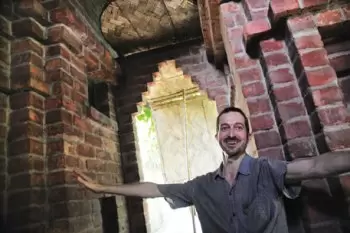 Fournier believes modern buildings cannot breathe because of the materials used to construct them (Photos Courtesy: Down to Earth)
Their room resembles a modest rural anganwadi with rundown toys strewn around, bunk beds in one corner and a wall-to-wall blackboard. Between circus sessions and a meal of samosas and sweets, the kids giggle looking up now and then, as Fournier explains the creamy handcrafted false ceiling overhead.
Made of bamboo mesh, smudged with a paste of lime and rice husk, the false ceiling traps the muggy Kolkata heat. The organic ceiling also regulates moisture; it breathes, he says excitedly. It helps make the top floor room a little more bearable in summer.
Fournier is emphatic that under no circumstance will he get an air conditioner (AC). He wants to minimise his family's energy consumption. He has also diligently collected monthly electricity bills for 10 other apartments in the same building for over a year, plotted them into energy graphs and found that average energy consumption in an apartment with one AC is more than five times that of an apartment without one.
"Not only do ACs consume more electricity, households using them tend to be casual about increase in energy bills. As much as 40 per cent of our electricity consumption is due to buildings."
According to Fournier, modern buildings cannot breathe because of the materials used to construct them: brick, cement, concrete, glass and steel. The priority of urban construction is a safe enclosure for belongings rather than comfort.
For those who can afford, comfort is guaranteed by controlling temperature and, therefore, higher energy consumption: all-weather AC, fans, exhausts, kitchen chimneys, giant refrigerators, geysers and room heaters.
But this consumption pattern is not sustainable: according to Fournier's calculations, "an AC for every five Indians will use up the entire electricity produced in this country". Fournier came to Kolkata in 1993 as a 27-year-old architecture student on a French government scholarship.
He came to study the city's heritage architecture but fell in love with the traditional bamboo and mud huts of rural Bengal—which dominates his style of 'vernacular architecture'—that relies on local materials and is based on local needs and traditions.
He believes building materials should be non-toxic not only for the owner but also for construction workers and at manufacturing stages—demands that impose serious limitations on any urban project.
"While the Western concept of architecture is motivated by the need to protect people from nature, in a tropical climate the tradition is not to destroy natural conditions of comfort," he says.
Green steps
Architecture, Fournier believes, should be in harmony with the climate. For an architect working in the diverse climates in India, his work is an ingenious blend of the vernacular with the ecological.
His first project in 1995 was to construct a meditation room for the mentally challenged for a Kolkata non-profit, Asha Niketan. The structure is located in a slum area and true to the vernacular style of using local materials, the walls are made with exposed bricks, the roof with terracotta (burnt-clay) tiles, the large windows and ceiling with bamboo mesh (locally known as darma).
The structure took a zig zag shape as Fournier did not want to chop the surrounding trees. "It is quite a small space but the openings are large in proportion to the building's size. The design made use of the ample breeze during summer months in south Bengal when the average wind speed is two to three metre per second."
But Fournier "will not build it the same way now." Over the years, he has tried to minimise the use of brick as most kilns in India use child labour. "Relatively eco-friendly industrial boards made of cellulose and cement are gaining popularity," he says. Most of his projects consciously chuck out one or more elements of urban construction—brick, steel and concrete.
An ongoing project in Chhattisgarh, next to the state capital of Raipur, shows his evolution as an architect. The residential house will be naturally cool with rammed earth columns and arched bamboo roof replacing the ubiquitous concrete.
"Mud is an excellent regulator of moisture and adding lime increases its resistance to water." The house will also have a large attic that will trap the heat besides serving as storage space. For rooms with water usage—bathroom and kitchen—Fournier is using local stones, popular in tribal dwellings.
A striking feature of Fournier's work is how his style changes with the location. A school in Agra in Uttar Pradesh is built with massive brick arches and mesh windows (jalis), inspired by the architecture of Fatehpur Sikri.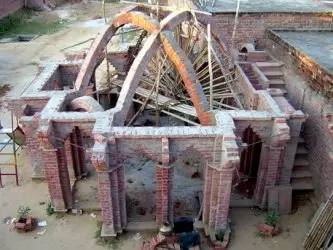 Brick arches for school in Agra: no concrete or steel
The arches serve a functional need. The building does not use concrete and uses steel only in "homeopathic" quantities. The bamboo arches in the Chhattisgarh houses have a more aesthetic purpose: to increase the interplay of light and reflections. The Asha Niketan arches have a spiritual utility, "they symbolise the sky and lightness floating overhead."
Fournier's dream is to work on a low-cost urban housing project using bamboo-lime-mud with coconut fibre and rice-husk. "I don't want to make buildings with straight lines and right angles. I want to move towards organic architecture, where each column has a personality and is not a carbon copy of another, where the walls are not dumb but speak to you."
Resources for the reader
Fournier would "not be an architect" if not for the book Shelter, a present on his 18th birthday from his mother. The 1973 book by American author Lyod Kahn, which sold over 250,000 copies led to the green building revolution.
For the interested, Fournier also recommends CRAterre, an international body which works on mud architecture and its seminal publication Building with Earth. He is now coordinating a course, Elements of Natural Architecture, at Modern Academy of Continuing Education in Kolkata, where a dozen people from various backgrounds share the knowledge they have acquired in eco-friendly construction.

By arrangement with Down to Earth

Trending Now: