Going to the roots to find remedies for modern day ailments

K R Ranjith
&nbsp | &nbsp Kochi
10-August-2012
Vol 3&nbsp|&nbspIssue 32
A few days back, when Kerala Chief Minister Oommen Chandy announced the formulation of a cancer cure by JNTBGRI (Jawaharlal Nehru Tropical Botanical Garden and Research Institute), it readily caught fancy headlines.

But the cure, awaiting clinical trials, was just one drug in a long list of medicinal formulations prepared by the Institute with the help of Ethnic Knowledge (EK) of Tribes who live in the remote villages of Kerala.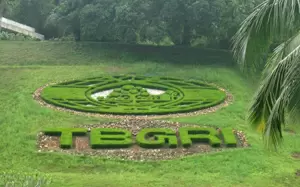 The institute has identified over 1500 plants used as food and medicine (Photo: The Sunday Indian)
"We got the patent for the cancer cure formulation way back in 1996. Though the drug, a combination of a few tribal medicines, was tested successfully on animals, clinical trials are still awaited," said the institute's director, Dr. P G Latha.

The institute, situated in a sprawling botanical garden in Palode near Thiruvananthapuram, has filed seventeen patents till now.

The cancer drug follows Jeevani, an anti-fatigue wonder mix which created waves in the 90's. Both these drugs draw heavily on the traditional wisdom of Kani tribesmen who live in the foothills of Agastyar Hills rich in medicinal herbs.

"Kani tribes traditionally used Arogyappachha (Trichopus Zeylanicus) to avoid stress. They were also aware of the therapeutic properties of Amritam pala (Janakia Arayalpatra). These herbs were introduced to scientists of JNTBGRI by the tribe's men who use these plants as medicine and food. The roots of Amritam pala were used by the tribes as a cure of swelling," Dr Latha said.

Further research by the JNTBGRI team found that the herbs have anti-tumour properties and lead to the discovery of the cancer drug.

The research team also found out that the roots of Janakia Arayalpatra can work wonders in ulcer treatment too.

The institute has published the research findings in International Journals. However, Arogyappachha and Amritam pala, the two wonder herbs found exclusively in the Kani heartland in the Agastyar hills, are found to be losing certain medicinal qualities when grown in lab conditions.

These herbs have to be grown in the forest beds, in the shades of our wonderful monsoon forests to be infused with those rare herbal qualities.

Janakia Arayalpatra is found on the rocky slopes of the hills and over exploitation has put the plant in peril. "You may not find more than 600 Amritam Pala plants in the forests now," Dr Lata said.

The JNTBGRI is now on a mammoth mission to identify and document plants and herbs used as food and medicine in fourteen districts of Kerala.
The first phase of the mission, funded by the central government, has gathered an unbelievable treasure trove of local knowledge that can be used for the larger common good of human kind.

Though it's too early to reveal anything about the findings, Dr Latha said, "More than 1500 plants used as food and medicine have been identified."

The institute is awaiting the second phase of the research programme to be complete to reveal a series of startling findings.

By arrangement with The Sunday Indian


Trending Now: