Move over traditional crops, guar is in as the gum made from its seeds is going places

Ankur Paliwal and Jyothika Sood
03-August-2012
Vol 3&nbsp|&nbspIssue 31
Houses in Goduwali dhani village of Rajasthan's Sriganganagar district are getting a makeover. Kaccha walls and roofs are being cemented, and marbles have been brought in for flooring.

There are new tractors in the fields and SUVs are increasing on the roads. Resident Ram Karan Charan is planning to buy his first car, while Om Prakash is eyeing investment in real estate in Jaipur.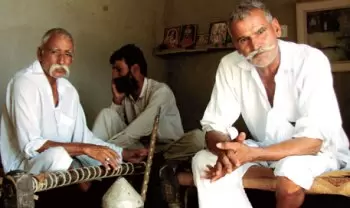 With guar returns, farmer Ram Karan Charan (with clasped hands) is planning to buy his first car (Photos: Down to Earth)
Some 500 km away, Kanchan Singh in Jodhpur district is breathing a sigh of relief. He has cleared all his long pending dues. Farmers across Rajasthan have similar joys to share.

Ask them the reason, they say "Guar ki kamaal" (Guar's gift). A lesser-known bean, guar (cluster bean) is fetching farmers around Rs 140 per kg—a sharp rise from Rs 15 in 2010-11. In April-May this year guar touched Rs 250 per kg.

India accounts for 90 per cent of the world's guar produce, of which 72 per cent comes from Rajasthan. In 2011, the acreage under guar in the country was 3.2 million hectares (ha), of which Rajasthan accounted for 3 million ha.

Guar was traditionally used to feed animals and is eaten as a vegetable. But it is the export of the gum made from the seed that is making farmers rich.

About 90 per cent of guar gum processed in India is exported. This gum, which is actually in powder form, is made by grinding guar seeds and has unique thickening, emulsifying and binding properties.

One tonne of guar makes 300 kg of gum. It is used in food, paper and textile industries. But most of the demand for the gum is due to the expansion of the shale gas and oil industries. Ninety per cent of the export is used to extract oil and shale gas—a natural gas trapped in shale formations.

Seeing the profits, Haryana, Punjab and Gujarat have increased their acreage under guar. Andhra Pradesh, Karnataka and Chhattisgarh will soon start growing it for the first time.

"Its countrywide acreage is expected to rise from three million hectares (ha) to four million ha this year," says D S Yadav, deputy director of the Rajasthan agriculture department.

Guar is also eating into the area of crops like cotton in Punjab and Rajasthan. Before 2011, farmers were growing more cotton than guar because of high returns. But skyrocketing guar prices and low maintenance changed the scene.

The price of cotton fell from Rs 70 per kg last year to Rs 38 per kg this year. The input cost of growing cotton is twice that of guar. Sunil Kumar of Sriganganagar had sown cotton in five bigah (one bigha=0.16 ha) and guar in two bigah last year. "This year I reversed the ratio," he says.

Punjab agriculture director M S Sandhu says cotton-growing districts including, Sangrur, Barnala, Bathinda, Faridkot, Fazilka and Ferozepur, are expected to use about 15,000 ha for their first guar trial this year.

Guar offers more benefits. A rain-fed crop, it takes 14 weeks to grow and requires reasonably warm weather and moderate rainfall. It is sown in July-August and harvested in October-November.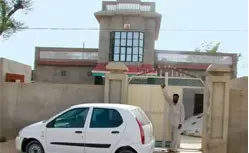 Farmer Om Prakash has built a concrete house and bought a car with guar returns
Being a leguminous crop, guar fixes nitrogen, making the soil fertile. If a farmer grows wheat on the same land, productivity is likely to increase by 30 per cent.
The shale gas industry, which is expanding in the US and China, uses the gum in fracking—a process where a mixture of water (95 per cent), sand (4.5 per cent) and guar gum (0.5 per cent) is injected under high pressure into an oil-or gas-bearing rock to fracture it.

The gum's viscous property decreases fluid loss and friction, thereby reducing energy consumption and increasing gas or oil recovery. Even 0.001 to 0.05 per cent of guar gum can reduce friction by 20 to 70 per cent. As per estimates, the US alone has enough shale gas reserves to last 100 years.

By arrangement with Down to Earth
Wish to share your story?
Trending Now: